Fifa presidency: Greg Dyke says Sepp Blatter will have had a shock
Last updated on .From the section Football
Sepp Blatter will have suffered "a shock" despite winning a fifth term as Fifa president on Friday, says Football Association chairman Greg Dyke.
He had won almost two thirds of votes before rival Prince Ali bin al-Hussein of Jordan withdrew from the race.
Dyke said: "This is not over. A third of delegates say they've had enough of your failure to deal with corruption."
Blatter has been president of Fifa since 1998, and Dyke said it had been a long time since Blatter's leadership had been seriously threatened.
"This has not happened to him for 16 years and for all of those 16 years there have been levels of corruption," Dyke claimed.
"He is not the man to oversee change. It needs a change of leadership and root and branch change.
"It's not going to happen now because Sepp Blatter has got re-elected, therefore we have to look at what else we do.
"[But] I'd be surprised if Mr Blatter was still in this job in two years' time."
His Football Association of Ireland counterpart, John Delaney, also agreed that the Swiss would not complete another term.
He said: "I still think this is the beginning of the end of Sepp Blatter.
"I don't see him seeing his four years out - the momentum is too great. We now have to see how best we can use the European muscle."
Scottish Football Association chief executive Stewart Regan supported Dyke's sentiments.
"We are disappointed but unsurprised by today's election result and will consult with Uefa to consider our collective position in order to achieve the essential changes required within Fifa," he said.
Michel Platini, the president of European football's governing body Uefa, had also previously criticised Blatter. Uefa officials are poised to meet at the Champions League final in Berlin on 6 June to discuss future plans.
Fifa election under a cloud
Blatter retained the Fifa presidency on Friday despite coming under pressure following
claims of corruption
regarding football's world governing body. On Wednesday, the US Justice Department arrested seven top football officials for bribery and racketeering charges. Blatter himself is not implicated.
Blatter, who has been at the helm of Fifa since 1998, had come under pressure to step down this week after US officials indicted a total of 14 people, who are alleged to have accepted bribes and kickbacks estimated at more than $150m (£97m) over a 24-year period beginning in 1991.
In a separate inquiry, Swiss authorities have opened up an investigation into the allocation of the 2018 and 2022 World Cups to Russia and Qatar respectively.
Platini calls for change
"I am proud that Uefa has defended and supported a movement for change at Fifa," Frenchman Platini said.
"Change in my opinion is crucial if this organisation is to regain its credibility.
"I congratulate my friend Prince Ali for his admirable campaign and I take the opportunity to thank all the national associations who supported him."
'Another dark day' - Figo
Luis Figo, who withdrew his candidacy for the Fifa presidency last week to avoid splitting the vote in Blatter's favour, was scathing in his criticism of the Swiss.
"This vote has only served to endorse the election of a man who can't remain in charge of world football," said the Portuguese former Real Madrid and Barcelona player.
"Mr Blatter being re-elected - that shows exactly how the organisation is sick.
"Today was another dark day in Zurich. Fifa has lost, but above everything, football has lost and everyone who truly cares about it has lost too.
"Mr Blatter had a very cynical reaction when he said that he couldn't control everyone. It offends everyone's intelligence.
"If he was minimally concerned about football, he would have given up on re-election. If he has a modicum of decency, he will resign in the next few days."
'Grow a pair of footballs' - Lineker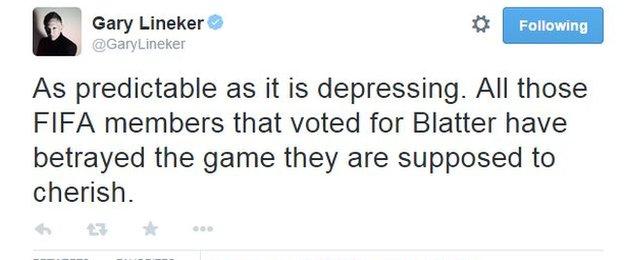 Criticism from British government
Prime Minister David Cameron: "Frankly what we have seen is the ugly side of the beautiful game and he [Blatter] should go."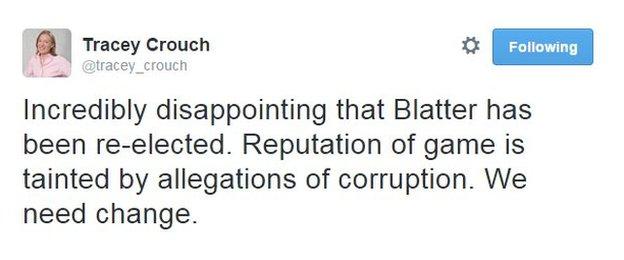 More disappointment over Blatter win
Dutch Football Association president Michael van Praag, who also pulled out of the Fifa presidential race: "We might have lost the battle, but this process is far from over. I will continue to fight for a better Fifa."
United States football chief Sunil Gulati: "While we are disappointed in the result of the election, we will continue to push for meaningful change within Fifa.
"Our goal is for governance of Fifa that is responsible, accountable, transparent and focused solely on the best interests of the game.
"This is what Fifa needs and deserves, and what the people who love our game around the world demand."
A different opinion
Before Friday's election Guinea-Bissau FA president Manuel Nascimento Lopes told the Inside World Football website that voting for anyone but Blatter would be a "blasphemy". "Tomorrow we are going to vote for Blatter. How do we know anyone else would be any better?" he asked.
And what Blatter said on Friday...
"I want to thank you for the trust and confidence. I take the responsibility to bring back Fifa where it should be. And I promise you, at the end of my term, I will give [put] Fifa in a very strong position. Let's go Fifa!"