England will back European boycott of 2018 World Cup - Dyke
Last updated on .From the section Football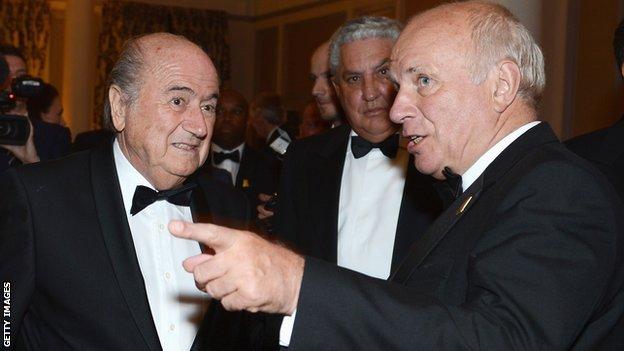 England would back a European boycott of the 2018 World Cup in protest at the re-election of Sepp Blatter as Fifa president, says Greg Dyke.
A boycott will be considered by European football's governing body Uefa when it meets next week in Berlin.
Football Association chairman Dyke said: "There's no point boycotting on our own, but if the rest of Europe decided to boycott we would join them."
He also said England would not bid to host the World Cup under Blatter.
The 79-year-old Swiss was on Friday re-elected for a fifth term as the head of football's world governing body despite seven Fifa officials being arrested by the US Justice Department over allegations of corruption.
Blatter himself has not been implicated.
"The truth is that he will not be able to sort out a fundamentally corrupt organisation, which is what Fifa is," Dyke claimed, "because he's been there too long.
"If you're the captain of the ship, and the ship is sinking, then if you can't get it back up, you should go.
"That's exactly what he should have done. He should have resigned this week."
| World Cup places: Russia 2018 | |
| --- | --- |
| Hosts: 1 (Russia) | Asia: 4 (plus one play-off place) |
| Europe: 13 | North and Central America: 3 (plus one play-off place) |
| Africa: 5 | Oceania: 0 (one play-off place) |
| South America: 4 (plus one play-off place) | |
Prince William, the president of the FA, speaking before Saturday's FA Cup final at Wembley, described this week's events as Fifa's "Salt Lake City moment", referring to the incident in 1998 when the International Olympic Committee (IOC) faced similar allegations over the award of the 2002 Winter Olympics.
"There seems to be a huge disconnect between the sense of fair play that guides those playing and supporting the game, and the allegations of corruption that have long lingered around the management of the sport internationally," he said.
"Fifa, like the IOC, must now show that it can represent the interests of fair play and put the sport first."
Fifa's executive committee ruled on Saturday that European nations could hold the 2026 tournament, opening the possibility of England bidding to stage the tournament 60 years after winning it as hosts for the first and only time.
However, the decision on who will host that World Cup will be made in May 2017, halfway through Blatter's four-year term of office.
Blatter had considered preventing any continent that held a World Cup from hosting the next two - which would have ruled out Europe after Russia 2018.
Fifa plans to stick with its current rotation system, by which no continent can host two successive World Cups.
It means that nations from any continent can bid for the 2026 tournament, except for Asian countries as Qatar will host the competition in 2022.
Fifa has also decided that Europe will retain its 13 places at the World Cup finals, which will continue to consist of 32 teams.
Prince Ali bin al-Hussein of Jordan, who conceded defeat to Blatter in Friday's presidential election, had pledged to increase the number of teams at the finals to 36 in time for Russia 2018 had he won.
Speaking to Fifa's Congress in Zurich shortly after his re-election on Friday, Blatter had hinted that he would seek to give Oceania a guaranteed place at the finals - a move that would probably have taken a spot away from Europe.
But instead, the winners of the Oceania section will continue to have to play-off against a team from another confederation for a place at the World Cup.