Lionel Messi, Jurgen Klopp, Paris St-Germain - Saturday in Europe
Last updated on .From the section European Football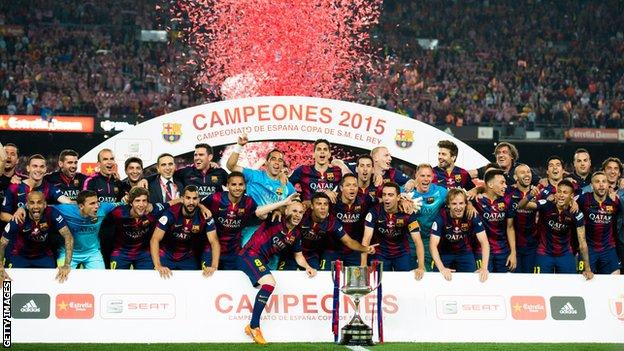 Lionel Messi inspired Barcelona to the double, Jurgen Klopp said farewell to Borussia Dortmund, while Paris St-Germain won a domestic treble. What a Saturday it's been on the continent.
PSG's French Cup win over Auxerre strengthened their dominance in France, while Barca can still add a third trophy on 6 June with the Champions League.
Standing in their way are Juventus - double winners themselves in Italy.
But in Germany Wolfsburg went against the general trend of the big European teams sweeping up the trophies with their German Cup triumph.
The Wolves spoiled Klopp's party by claiming their first ever DFB Pokal with a 3-1 victory, ending a dominance of the major German honours by Dortmund and Bayern Munich that had extended back to 2009.
"My emotional state is now below average"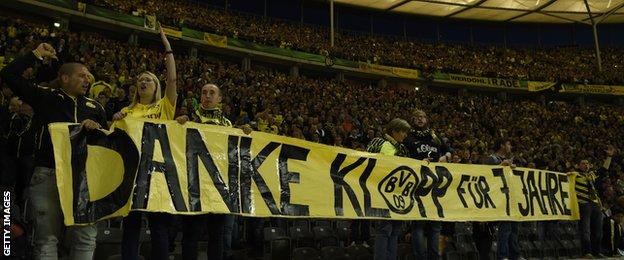 It also meant Nicklas Bendtner - an unused substitute for Dieter Hecking's Wolfsburg side in Berlin - added to his Serie A success with Juventus in 2013 and the 2014 FA Cup victory with Arsenal, with his third major honour in a row.
And for Klopp, who is stepping down as Dortmund manager, "the departure is starting to be painful".
"I know everyone wants to know about how I feel," said the 47-year-old. "But if I start with that, then the tears come. We lost a game and I cannot make as if I am the most important person in the world."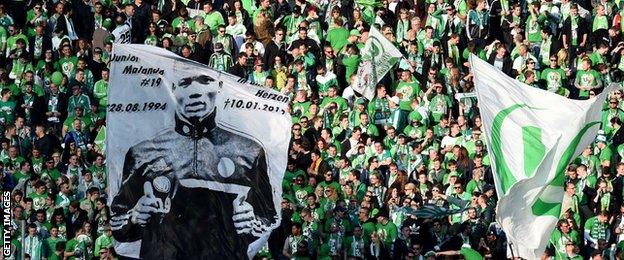 Meanwhile, Wolfsburg fans unfurled a banner in a poignant tribute to the memory of Junior Malanda, the former Wolves midfielder who was killed in a car accident aged 20 in January.
Another Messi masterpiece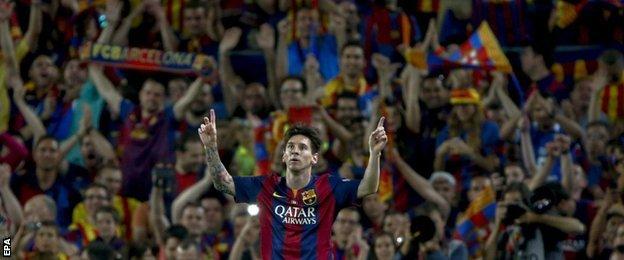 Over in Barcelona, Messi was the talk of the town as his opening goal set the tone for their first Copa del Rey victory since 2012.
The Argentina forward jinked his way towards goal, leaving defender after defender trailing in abject pursuit before firing home the first goal of a 3-1 victory.
Xavi, Barca's 35-year-old midfielder, was also saying his goodbyes.
Club president Josep Maria Bartomeu, said: "Messi's goal is one of the best of his career. He is the best in the world and for me in history."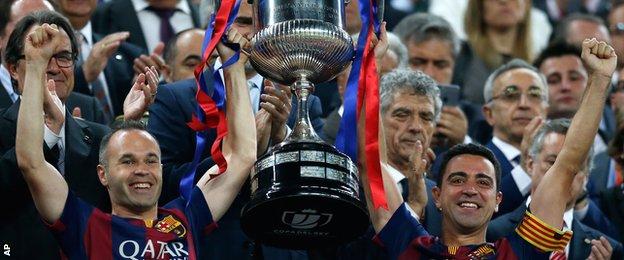 When is a treble not a treble?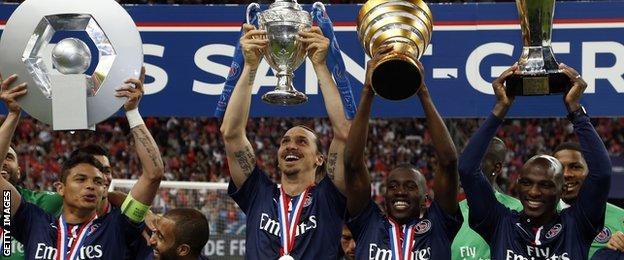 And in France PSG made it into the record books by becoming the first French club to win a domestic treble, beating second-tier Auxerre 1-0 at the Stade de France.
Laurent Blanc's side secured the Ligue 1 title earlier this month, beat Bastia 4-0 in the French League Cup in April and Edinson Cavani's goal ensured they ended the season on a high.
In fact, they also made the history books by becoming the first French club to make a clean sweep of all the domestic trophies - including the Trophee des Champions.
So if you are including the French equivalent of the Community Shield, which Zlatan Ibrahimovic and company clearly are, then that makes four.
How the world reacted