Uefa president Michel Platini must unite Europe - Greg Dyke
Last updated on .From the section Football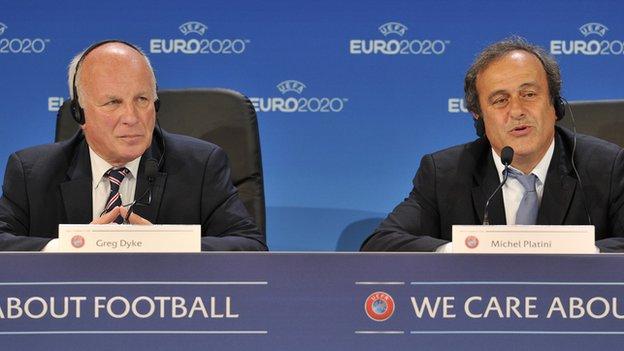 Uefa president Michel Platini must show strong leadership to unite Europe behind a collective boycott of the 2018 World Cup, says Greg Dyke.
Football Association chairman Dyke believes it would need the support of "10 large countries" to have an impact.
"Otherwise it is pointless," he said.
Speaking on BBC Radio 5 live's Sportsweek, Dyke added: "There would certainly be us, there would certainly be the Dutch, there would certainly be the Germans who have been demanding change and would demand change.
"They would only take serious action if there's enough [opposition willing to act]."
Blatter beat rival Prince Ali bin al-Hussein of Jordan on Friday in an election that was overshadowed by arrests and corruption allegations.
Uefa had supported Prince Ali's bid, but reports suggest as many as 18 European nations, including 2018 World Cup hosts Russia, France and Spain, voted for Blatter.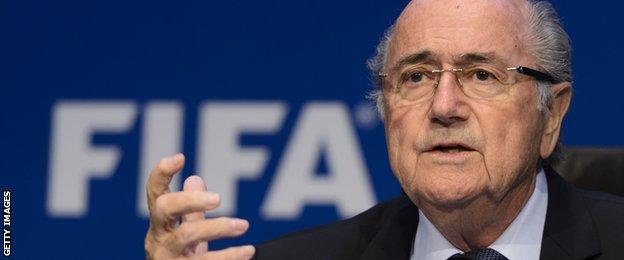 David Bernstein, FA chairman between 2011 and 2013, said he was troubled by "a big split" within Uefa.
"If it is true that maybe up to a third of Uefa countries voted for Blatter, it will be very difficult to get a cohesive Uefa plan of action on this," he said.
"We may have to rely upon sponsors and prosecutors to push this over the top."
Former Fifa executive Jerome Champagne, who had planned to challenge Blatter for the presidency before withdrawing in February, says boycotting a World Cup would be misguided.
"It doesn't make sense," he said. "The World Cup will continue because it is the biggest football event."
Dyke, meanwhile, believes the whole presidential election voting system needs to be reformed.
All 209 Fifa member countries have an equal say in the vote, regardless of size or football pedigree.
"It is a very strange system," added Dyke.
"A democracy where everyone gets one vote looks completely fair but then you say hang on a minute, Turks & Caicos Islands get the same vote as England, Germany or America, that doesn't make any sense at all. At some stage, that might have to be changed.
"What Mr Blatter has done is gone around the world encouraging any small country he can find to join Fifa and that is a vote for him.
"The money is spread fairly evenly and for a lot of smaller countries that means almost their total income comes from Fifa, and they thank Mr Blatter for that."