Garry Monk will become 'one of the best managers' - Patrick Vieira
Last updated on .From the section Swansea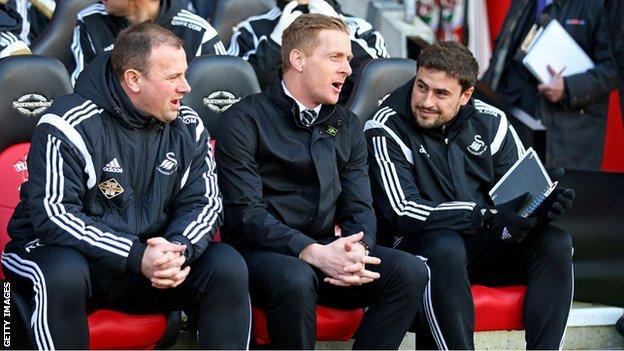 France and Arsenal great Patrick Vieira has tipped Swansea City boss Garry Monk to become a leading manager.
In Monk's first full season since succeeding Michael Laudrup, the Swans claimed a club Premier League record 56 points and highest finish of eighth.
Vieira, 38, has been on the same coaching courses as Monk, 36, with the Football Association of Wales.
"I really believe he will be one of the best managers in the next few years," said former midfielder Vieira.
"He has been successful, he went to Swansea and from player to manager he is doing really well, and of course that is showing us that you can do it.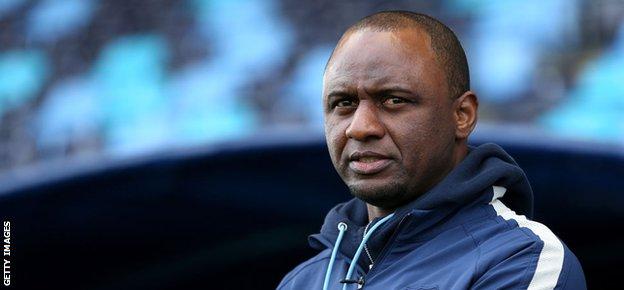 "I am not surprised at all because he knows what he wants, he knows how he wants the team to play and his man-management is really good. I think he has the skill to be one of the best because he's really calm, he's really focused and his work ethic is fantastic."
Vieira is currently coaching Manchester City's Elite Development Squad and working towards his 'A' coaching licence.
The former Juventus, Internazionale and Manchester City player has been linked with taking over as manager at Newcastle United and says Monk's experience of becoming a manager is useful.
"Talking to Monk was really interesting because as an ex-player going to a managerial role, what was his first step, what was the message he sent to the players, what is his first focus on?" said Vieira, who was attending a FAW national coaching conference in Newport.
"Those are the kind of details that are really important, because one day we all want to go through to that situation.
"It doesn't matter which level you played, it doesn't matter which career you had, you can still do it. He's a really good example for all of us on the course."