Rangers co-operate over 'disgraceful' Fir Park brawl
Last updated on .From the section Football
Rangers say they will co-operate fully with the investigation into the "disgraceful scenes" following the Scottish Premiership play-off final.
An on-field clash between Rangers defender Bilel Mohsni and Motherwell's Lee Erwin sparked a brawl at Fir Park.
Police and the football authorities are reviewing the incident and the match delegate is due to deliver his report.
Mohsni responded to a push by Lee Erwin by aiming a kick and punch at the striker after Sunday's clash.
The second leg saw Motherwell preserve their Premiership status courtesy of a 6-1 aggregate victory.
Mohsni also tussled with Motherwell's unused substitute Fraser Kerr.
Kerr and Mohsni were shown red cards by Craig Thomson after the match, Erwin received a yellow card.
"Bilel Mohsni's behaviour was completely unacceptable and had his contract not now expired, the club would have started disciplinary proceedings," Rangers said in a statement.
"The club will also assist with any investigation into the behaviour of Motherwell supporters and we would like to thank the Rangers fans who were excellent in showing admirable restraint despite severe provocation."
Assistant chief constable Bernard Higgins said: "Police Scotland will conduct a full review of the circumstances and liaise with the appropriate partners, and decide how best to take the matter forward over the coming days."
Rangers manager Stuart McCall said he missed the incident, but acknowledged such behaviour was "unacceptable".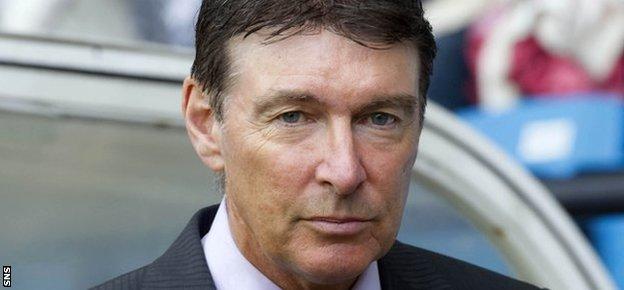 Speaking after his side's 3-0 loss at Fir Park, he said: "If he has thrown a punch that's disgraceful.
"But it's safe to say he won't be at the club next season. He's out of contract."
Motherwell boss Ian Baraclough said the scenes detracted from a great day for the Lanarkshire club, who triumphed 6-1 on aggregate to retain their top-flight status.
"There's been an outpouring of emotions, shall we say, and it's gone too far," he told BBC Scotland.
"Scottish football doesn't need it. There were two teams battling it out over 180 minutes, they gave it absolutely everything.
"For one or two individuals to ruin it, tarnish it, is a shame."
Erwin appeared to shove Mohsni after the defender refused his offer of a handshake and describe his opponent's reaction as "embarrassing" in a television interview, given with blood on his face.
Motherwell fans spilled onto the pitch while the fight was going on and had to be ushered away by police and stewards as they goaded Rangers supporters.
Former Scottish FA chief executive Gordon Smith believes it should be for the football authorities, not the Police, to deal with the matter.
"I think it was thuggery," Smith told BBC Scotland. "It's happened in a football match and the football authorities have to deal with it.
"I don't think the police should be involved."
Moshni should receive a hefty fine and a six to eight-game ban, he added.