Heather Rabbatts: FA member withdraws from Fifa role
Last updated on .From the section Football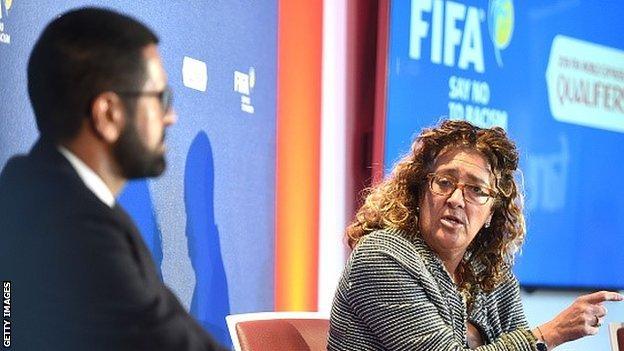 Football Association board member Heather Rabbatts has withdrawn from Fifa's taskforce against racism and discrimination with immediate effect.
But she added her desire to try to tackle racism and discrimination was "outweighed by the disastrous effect on Fifa's reputation of recent events".
Fifa re-elected president Sepp Blatter last week despite corruption claims.
Seven top officials of world football's governing body were arrested in Switzerland two days before last week's election as part of a US prosecution that indicted 14 people.
A separate criminal investigation into how the 2018 and 2022 World Cups were allocated has also begun.
Blatter, 79, has faced calls to resign from Uefa and the FA but was still voted in for a fifth term in his role.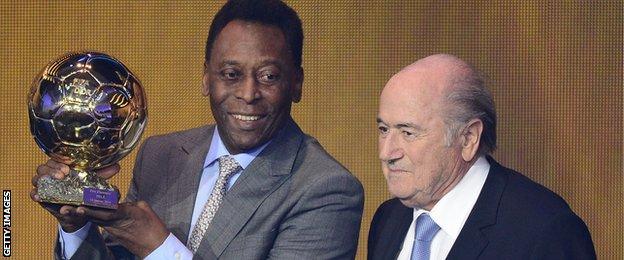 He has received support from Brazilian three-time World Cup winner Pele but John Whittingdale, Britain's Secretary of State for Culture, Media and Sport, says the government will "do all in its power to help bring change about" at Fifa.
The decision of Rabbatts comes in the wake of FA vice-chairman David Gill rejecting a place on Fifa's executive committee while Blatter is president.
"Like many in the game, I find it unacceptable that so little has been done to reform Fifa," said Rabbatts.
"It is clear from the re-election of president Blatter that the challenges facing Fifa and the ongoing damage to the reputation of football's world governing body are bound to continue to overshadow and undermine the credibility of any work in the anti-racism arena and beyond.
"My commitment to challenging discrimination across the game remains undiminished and I will continue to work with the FA and other international partners on this fundamental issue in our game."
Fifa medical chief Michel D'Hooghe is the longest-serving member on the executive committee and said he would leave the organisation unless there were rapid reforms.
"I cannot reconcile myself with an institution where I work, where I have carried the medical responsibility for 27 years and about which I now learn that there is a lot of corruption,'' he told Belgian television.
"My conclusion is very clear: I will no longer continue to participate (in Fifa) under such conditions. So, it is high time for change to come and we will see over the coming days what may happen.
"Let's be clear, if this atmosphere prevails at Fifa, I have no place there.''
He added: "If you are faced with an abscess, simple medication does not suffice. You have to cut it open."
Meanwhile, Pele says he was in "favour" of Blatter beating Prince Ali bin al-Hussein in the Fifa presidential election.
"He's a man who has been there for 25 years [with Fifa], you have to respect him, it was an election," he said.
However, Culture Secretary Whittingdale has met with FA chairman Greg Dyke to discuss the situation regarding Fifa.
"I have just spoken to Football Association chairman Greg Dyke and assured him that we stand behind the English FA's efforts to end the culture of kickbacks and corruption that risk ruining international football for a generation," he said.
"I agreed with him that no options should be ruled out at this stage."