Women's World Cup 2015: From cramped trains to luxury planes
By Tony Leighton
Women's football reporter
Last updated on .From the section Women's Football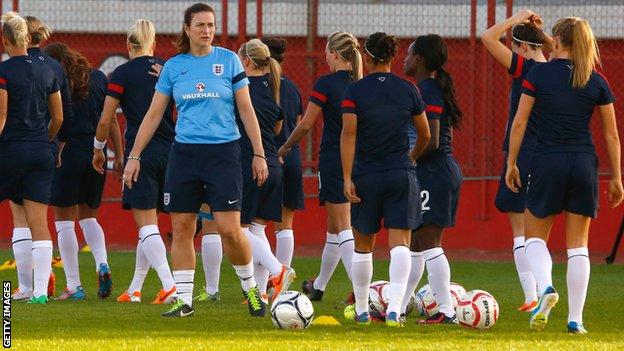 France v England
Dates:
9 June.
Time:
18:00 BST.
Venue:
Moncton, Canada
Coverage:
Watch live on BBC Two and BBC Sport website, commentary on BBC Radio 5 live, live text commentary on BBC Sport website
Twenty years to the day since Marieanne Spacey scored in England's first match at a World Cup finals, the former Arsenal striker will be in the technical area as assistant head coach when they begin their 2015 campaign against France in Canada on Tuesday.
Spacey is a key member of the 23-player squad's back-up team, the size of which - 20-strong - would have astonished the 1995 playing squad.
They were all amateurs, among them firefighter Donna Smith, chauffeur Deb Bampton, factory worker Gill Coultard, postwoman Clare Taylor, Department of Social Security employee Kaz Walker and fitness instructor Spacey.
By stark contrast, all the current squad are professionals with the highest paid among them earning around £60,000 a year.
And with a support team that includes an exercise scientist, a psychologist, two video analysts, a chef, a safety officer and a media team in addition to the coaching staff, the class of 2015 is very well catered for.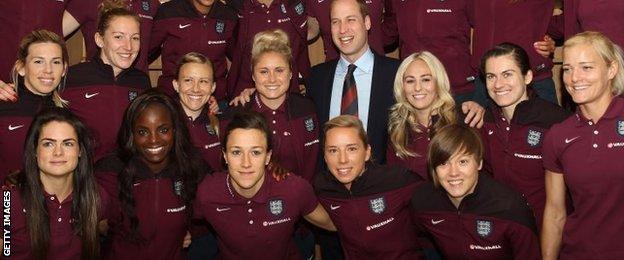 'We could only have dreamed of this set-up'
England enjoyed a 100% record in qualifying, but since securing their place in Canada they have suffered friendly defeats against Canada, United States and Germany, either side of winning the Cyprus Cup in March.
And while their on-field preparations have suffered setbacks, off the field there have been no such difficulties.
"In 1995 we had nothing like the resources the women's team have these days," says Spacey, who will be working under head coach Mark Sampson in his first World Cup in charge.
"When we went to Sweden for the World Cup we had a manager, his assistant, a physio, a doctor and a team administrator - that was it.
"What the girls have now is fantastic in comparison, but it's the demands of the game now and every person behind the team has an important role.
"We are all focused on the players being 100% prepared in every way when they go out on to the pitch.
"There is complete management of the players' schedule, from training times to team meetings, meal times - even their downtime is structured.
"It wasn't like that in our day, but although we were amateurs we had a professional outlook and stretched every resource we had as far as we could.
"We could only dream about having a facility like St George's Park to work at on a regular basis.
"Before we went to Sweden in 1995 we had a few days at Bisham Abbey then flew straight to the finals - this year we had a 10-day camp at St George's Park, followed by a few days off, then we flew to Canada a fortnight before our first game."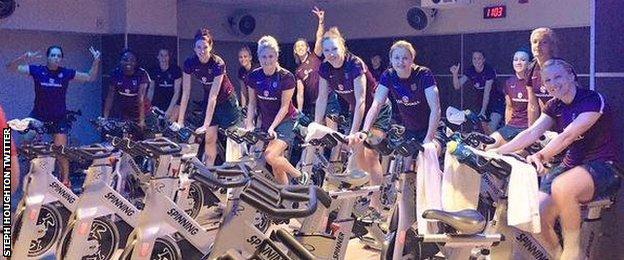 'Get your shifts covered or you can't go'
England's preparations for this year's World Cup are a far cry from those of the 1995 team, a number of whom had to take unpaid leave to take part.
Spacey recalls: "I was working in a leisure centre and there were a couple of shifts I hadn't managed to get covered while the World Cup was on and I was told that unless I got the shifts covered I couldn't take the time off.
"I said, 'but I'm going to the World Cup!' To be fair to the guys I worked with, they respected what my team-mates and I were doing and I got the shifts covered."
As it was England's first appearance at the finals, only the second that had taken place following the USA's triumph in 1991's inaugural event, neither manager Ted Copeland nor any of his players had any major tournament experience.
But Spacey says: "I'd dreamed about playing for England as a kid and now I was going to play for my country at a World Cup.
"It was an incredible feeling, and although I'm not an emotional person I got goosebumps and filled up at the opening ceremony."
Cramped together on an overnight train
Intriguingly - frustratingly too - England reached the 1995 quarter-finals and have done likewise in the other two World Cups they have contested, in 2007 and 2011.
Mark Sampson's 2015 team will be aiming to go at least one better. Their campaign is set to unfold with tricky group games against Mexico and Colombia to follow France, but they will at least have a more comfortable match-to-match schedule than the 1995 side.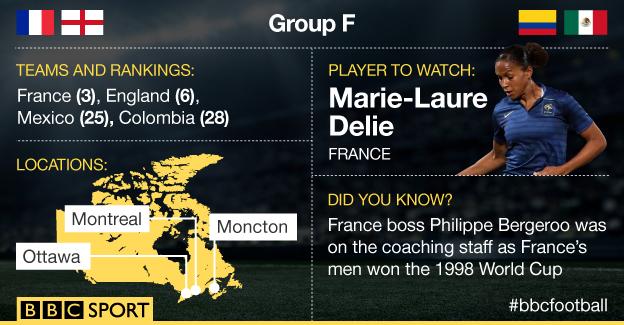 "We won our first game 3-2 against Canada in Helsingborg," says Spacey, whose goal from the penalty spot was sandwiched by two Coultard goals.
"We then had to jump on an overnight train to Karlstad for our second game, which was only two days later.
"We tried to sleep, not very successfully, in very cramped space on the train and then had to recover to face Norway - who eventually won the tournament.
"We lost that one 2-0 and then, thankfully, our third group game was also in Karlstad and we beat Nigeria 3-2 to qualify for the quarter-finals.
"Unfortunately, that game was against a very dominant German team in Arosvallen three days later and we lost 3-0.
"It was a tough end to a tough tournament, but we enjoyed every minute and it was one of the best experiences of my career. I still talk about it with the girls who were there.
"In that last game against the Germans we were leggy, lacking in physical fitness and in game management. Those things cost us on that occasion, but that won't happen to this year's team in Canada."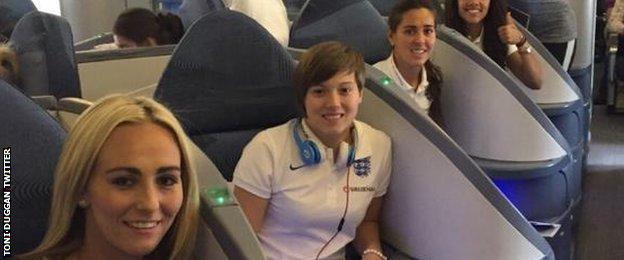 Players more experienced than coaching staff
Unlike Spacey and her 1995 World Cup colleagues, the current England squad can boast plenty of experience at major tournaments.
More experience, in fact, than their own coaching team.
While Sampson and the majority of his staff have not been involved in either a World Cup or European Championship finals, eight of his 23-player squad have previously contested World Cups.
"It's a bit strange," says Spacey. "A lot of the players are more experienced than the staff when it comes to tournament football because they've done it so many times before.
"It's proving very useful, though. The girls are passing stuff on to the staff that we're finding valuable, and I'm putting in my experiences as a player too."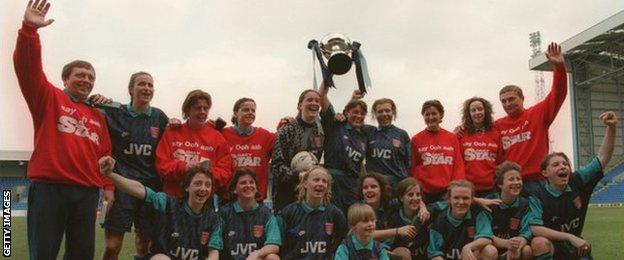 No regrets, no jealousy
After the 1995 World Cup, Spacey played in the 2001 European Championship finals before ending her international career with 28 goals from 91 appearances.
Now Spacey is aiming to help the national team go further than ever before at a World Cup - and with no regrets that her time came before the professional era.
"I loved my time as a player," adds the now 49-year-old coach, "and I've got no hang-ups about not being 20 or 30 years younger.
"I played in a pioneering England team in 1995 and now I'm a coach for what will hopefully be a successful England team in 2015.
"The women's game has made incredible progress in the last 20 years and we want to keep that going - and doing well at the World Cup will be a massive help in that respect."
Can England win the World Cup?
"Well," says Spacey, "we've got to get out of the group first, and if we do that then we've got a big challenge because England have never won a knockout game at a World Cup.
"If we can achieve those two aims then we can maybe start setting targets to make this team the most successful ever England side at a Women's World Cup."