Bans for Mohsni, Ainsworth and Moore following fracas
Last updated on .From the section Football
Bilel Mohsni has been banned for four matches and also been issued with a notice of complaint following his post-match clash with Lee Erwin at Fir Park.
He is out of contract as of Monday and his ban and any additional suspension will be attached to his registration.
Motherwell duo Lionel Ainsworth and Craig Moore have accepted two-match suspensions for violent conduct.
The duo were involved in separate clashes with Mohsni after Motherwell's victory, which completed a 6-1 aggregate win in the Scottish Premiership play-off final.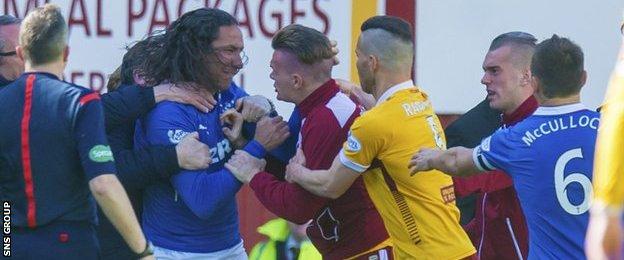 That result secured the Steelmen's top-flight status and consigned Rangers to at least another year in the Championship.
Mohsni responded to a push by Erwin by aiming a kick and punch at the striker. Mohsni also tussled with Motherwell's unused substitute Fraser Kerr.
Kerr and Mohsni were shown red cards by referee Craig Thomson after the match and Erwin received a yellow card.
Mohsni's red card for violent conduct incurred a four-match suspension - two games for Sunday's offence and two additional games for previous sending-off offences during season 2014-15.
His notice of complaint, which he has until 9 June to respond to, is for "excessive misconduct" and mentions the kick and punch aimed at Erwin as well as "struggling violently" with Kerr. A principal hearing date has been set for 18 June.
Kerr incurs a two-match ban for violent conduct.
Ainsworth and Moore have been banned for violent conduct towards Mohsni with the former "striking" the Tunisia international "on the back of the neck or head" and Moore for "striking or attempting to strike" the defender with a hand.
Police are reviewing Sunday's post-match scenes at Fir Park.