Relegation 'saved' Doncaster Rovers Belles from folding
Last updated on .From the section Women's Football
Two years on from Doncaster Rovers Belles' demotion from the top flight of women's football, things are looking more positive in South Yorkshire again.
The initial anger towards the decision has subsided and since been replaced with a feeling that relegation in fact rescued the club from folding.
"If the local people didn't feel such an injustice in the way the tender process had worked, we wouldn't have got so many people involved," Carl Lygo, the club's commercial director, told BBC Sport.
"It's no underestimation that relegation really saved the Belles."
The decision by the FA to end Doncaster's 22-year-stay in the top division was met with outrage and bewilderment by both the club and the rest of the women's football world.
Doncaster Rovers Belles: A potted history
Formed in 1969 as Belle Vue Belles, becoming Doncaster Belles in 1971
One of the founding members of national Premier League in 1991
They completed the league and FA Cup double in 1991-92 season
Teamed up with men's team in 2005 to become Doncaster Rovers Belles
Become one of eight teams in FA WSL for the summer of 2011
Demoted to FA WSL 2 for 2014 season, with club appealing decision
Miss out on promotion back to WSL 1 by two points in 2014
And, as Lygo explains, with the Belles already struggling for money in WSL 1 the announcement to demote them to WSL 2 left them in such financial dire straits that they went close to going bust.
"The players were completely flat, there was no commercial activity and we were going out of existence," he said. "It was a depressing state.
"Around 50% of our revenue was taken away from us in terms of an FA grant and we also lost our long-term sponsor, so the club was really facing going out of business and into liquidation."
However, such a strong reaction to the announcement saw the local community rally around and local businesses come forward with offers of support.
"The fact that it became very public knowledge that Doncaster Belles were not going to be in WSL 1 really opened up the media," said club president and founding member Sheila Edmunds.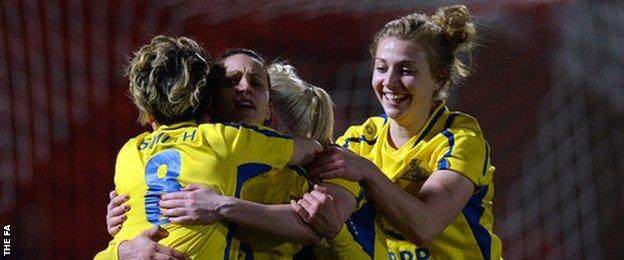 "We had to restructure and look at what we were doing and where we were going.
"We've got a very rich history in the club but you can't live on your history. Changing our ideas really made us work much harder.
"Sometimes you coast along when you think you're safe, when in fact you're not, you have to change with the times and move forward."
Doncaster and former England winger Sue Smith admits that finding out the club had been demoted had been a shock to the players.
"I was a little bit worried behind the scenes as well as on the pitch," she said. "Thankfully that's changed, a lot of people have come on board and so now we've got no excuse not to perform.
"It's looking good and it's looking like a bright future for Doncaster Belles."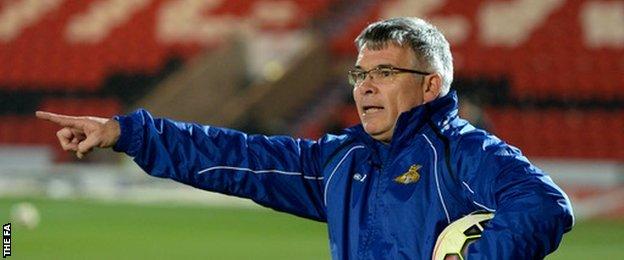 Doncaster came close to regaining their WSL 1 status at the first attempt last year, only to be pipped to promotion by Sunderland.
With two spots up for grabs this season, all eyes are once again on gaining a place back in the top division, with Doncaster currently level on points with leaders Reading as the WSL 2 enters its mid-season break.
For Lygo, however, securing the club's future remains the priority.
"We've put in a commercial plan that's been successful and we've made sure that the club is on a good footing," he said.
"We started a 10-year plan and we are into year two. We aim to be the best women's football team yet again - we've been at that point and we want to get back there, winning titles and in Europe."