Sepp Blatter: What next for football after Fifa chief's resignation?

By Phil McNulty
Chief football writer
Last updated on .From the section Football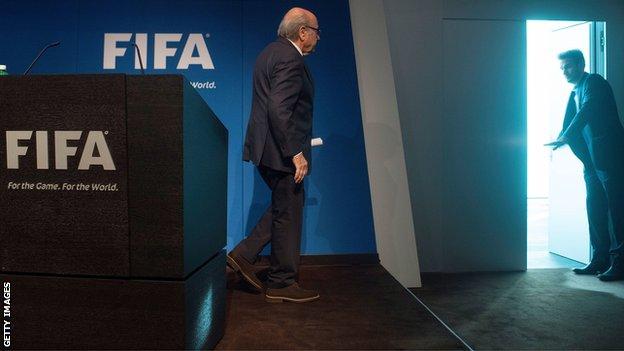 Sepp Blatter's resignation as Fifa president just days after his re-election to the most powerful job in world football is a seismic moment.
The 79-year-old has wielded power for 17 years but will leave with Fifa mired in a corruption scandal and a criminal investigation into the allocation of the next two World Cups in Russia and Qatar.
As Blatter prepares to leave office, football must now decide how the governing body can repair its reputation - and wrestle with the question of just who can replace a man seen as one of sport's great survivors.
What happens next at Fifa?
Those hoping that Blatter's exit through a stage door in Zurich on Tuesday would be the final sighting of the outgoing Fifa president are set to be disappointed.
While the date of the election to find his successor will be decided by Fifa's executive committee, Domenico Scala, chairman of its audit and compliance unit, suggested it would take place between December this year and March 2016.
This means Blatter could - in the most extreme scenario - still be in place in nine months, although it is hard to see what significance he will have left by then.
In this interim period, Fifa will examine at length the credentials of those standing for the post of president, but it is highly unlikely anyone in the organisation will want to be left in a nine-month limbo.
Blatter's departure is surely Fifa's opportunity to clear the toxic air that has enveloped a leader who so often appeared impervious to criticism - a target his enemies could never hit.
And in light of the damage done to its reputation by the corruption arrests that overshadowed Friday's election, Fifa will want to be seen to put putting its house in order quickly.
More body blows may lie ahead, particularly with Swiss authorities launching a separate criminal investigation into how the 2018 and 2022 World Cups were allocated.
And the timing of Blatter's announcement also adds an extra layer of intrigue, coming as it did on the day Fifa responded to reports claiming general secretary Jerome Valcke was responsible for an alleged $10m (£6m) payment of bribes over South Africa's bid to host the 2010 World Cup.
Was this story the trigger for Blatter to finally admit the game was up?
One of Fifa's first moves must be to create an environment of greater transparency and there will also be demands for the restructuring of the all-powerful executive committee.
The 26-strong group, chaired by Blatter, was always firm - perhaps inevitably - in its backing of the president but there was clear unrest from the likes of Uefa president Michel Platini and FA vice-chairman David Gill.
Fifa is clearly intent on change but the scale remains to be seen, although Scala's insistence that the "organisation cannot be used by individuals seeking to enrich themselves at the expense of the game" provides grounds for optimism.
And what of the election process itself? The time appears to be coming for fixed-term presidents and with it a rejection of the system that allowed Blatter rule for the best part of two decades.
What now for world football?
FA chairman Greg Dyke made a pertinent point - one that will likely be debated in the coming months - when he said: "If I was the organisers of the Qatar World Cup, I wouldn't sleep well tonight."
The Swiss authorities have started criminal investigations into how the 2018 and 2022 World Cups were allocated to Russia and Qatar - and Dyke's message suggests he still believes there is a doubt over whether the latter will stage the tournament.
Blatter, for all the angst of his enemies, had an unshakeable powerbase with the support of African countries, especially since he took the World Cup to South Africa in 2010, as well as Russia and President Vladimir Putin, who condemned the arrests made last week as a US-led attempt to sabotage his re-election.
Asia has also been a stronghold of Blatter support with many nations feeling, like those in Africa, that they had benefited from his reign.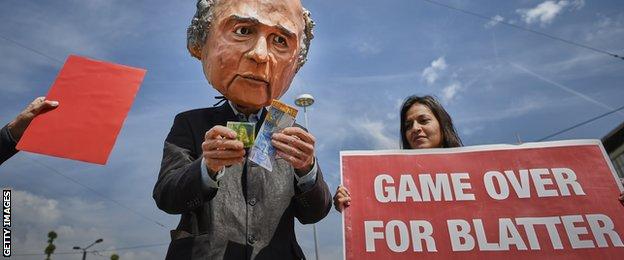 With Blatter gone, the powerbase is likely to shift and muscles will be flexed by those, such as the FA, who felt their attempts at reform were doomed to failure while he held the levers of power.
The changes on the horizon to Fifa's ExCo will be central to this, with plans to reduce its size and have members elected through the Fifa Congress and not individual federations.
What does this mean for the FA and England?
Dyke made no attempt to disguise his delight at the departure of Blatter with the words: "Let's celebrate."
As news of his decision to stand down reached London, there may just be a feeling that England is back in the world game after standing back from the Blatter regime.
Dyke made it clear that England would not bid to host any Fifa tournaments while Blatter was in charge, on the basis they would simply not be entertained.
Blatter, he claimed, saw allegations about corruption surrounding Qatar's successful bid to host the 2022 World Cup as an attack on Fifa by the British media and this was his revenge.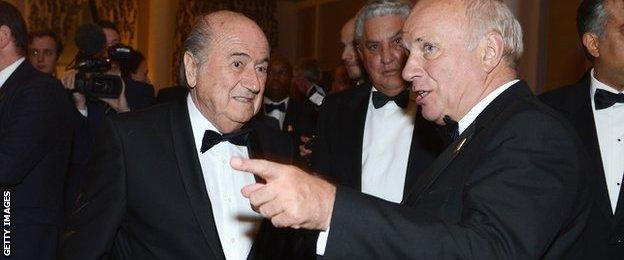 Gill, meanwhile, had refused to take up his position on Fifa's executive committee while Blatter remained at the helm but is now in the process of reviewing the situation.
And the obvious schism between the FA and Fifa also caused FA board member Heather Rabbatts to withdraw from the governing body's taskforce against racism and discrimination.
Until Tuesday, the FA felt they were on the outside of Fifa looking in - now they will be emboldened to play a more progressive role in shaping the future of world football.
Who replaces Blatter?
Well the comedy candidate has already thrown his hat into the ring, with David Ginola returning to the fray he occupied briefly before withdrawing earlier this year. We can draw a line through that one though.
Uefa president Michel Platini has long been regarded as Blatter's potential successor but, while hailing Blatter's "brave" decision to stand down, the former France captain stopped short of declaring his candidacy.
Prince Ali Bin Al Hussein of Jordan, who was backed by the FA, was defeated by Blatter in last week's election but he has indicated a willingness to stand again.
He did well enough to force the vote into a second round but then pulled out - will he eventually be seen as simply the anti-Blatter candidate or will he make a serious play for power?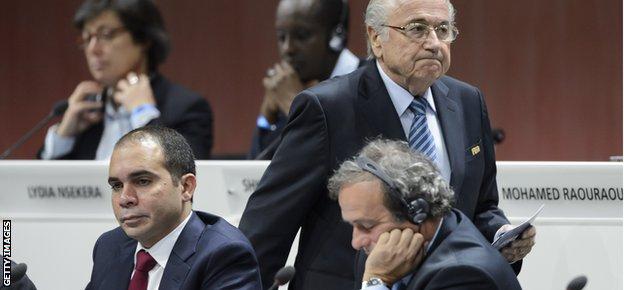 Former Portugal international Luis Figo pulled out of the race, condemning the election as "a plebiscite for the delivery of absolute power to one man".
Figo has the gravitas that eluded Ginola during his flirtation with the election and is a statesmanlike figure, hugely respected in the game but he may feel his main reason to stand, to get rid of Blatter, has now gone.
President of the Dutch football federation Michael van Praag was also a contender before pulling out to throw his support behind Prince Ali, so he may revisit his candidacy, as might Jerome Champagne from France, who was a Fifa executive from 1999 to 2010 and originally put himself forward as a challenger to Blatter but could not get sufficient backing.
And who is to say yet more candidates will not come forward, emboldened by the impending departure of a man who for so long looked untouchable at the summit of world football.