Sepp Blatter exit 'a huge step for football' - SFA chief Stewart Regan
Last updated on .From the section Football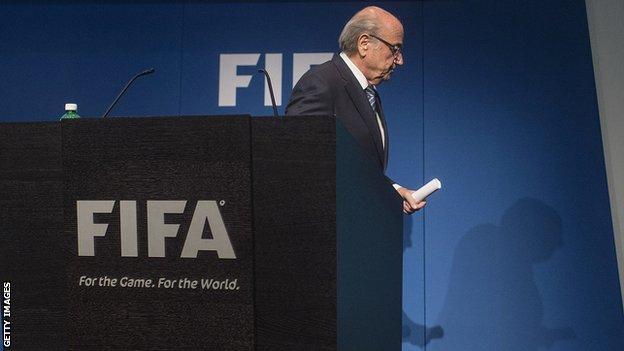 Scottish FA chief executive Stewart Regan says the resignation of Sepp Blatter as Fifa president is "a huge step for football on a global scale".
Blatter stood down on Tuesday amid police probes into the workings of world football's governing body.
"It's a special piece of news," Regan told BBC Scotland.
"It will allow for a new leader to be elected and a new president to start the rebuilding process for football across the world."
Blatter had last week defeated Prince Ali bin al-Hussein, the Jordanian who had the backing of the SFA and a number of other European nations, to extend his reign as president.
But he resigned on Tuesday as reports emerged that he is under investigation in the United States.
Regan tipped David Gill as a possible candidate to succeed Blatter despite the English FA vice-chairman previously saying that he was going to stand down from the Fifa executive committee.
"He was prepared to walk away, but I think we will now see David Gill remaining part of the Fifa executive company and I'm sure there will be others prepared to come forward," said the SFA chief executive.

"But obviously the start of the process is a new president. That will be an election and the proposal from Sepp Blatter will be that the members of the executive committee are also voted on by the members as well, so that the countries and associations will have a chance to elect what is essentially a new board."
Blatter had been re-elected despite the news that seven top Fifa officials had been arrested in a corruption probe in the USA.
A separate investigation had begun in Switzerland into the winning bids for forthcoming World Cups in Russia in 2018 and Qatar in 2022.
Regan, whose governing body has faced criticism itself for arranging to play a friendly against Qatar in Edinburgh on Friday, said: "We've been calling for a number of years now for a change in leadership.
"The image of Fifa has been tarnished and allegations of bribery and corruption have continued to threaten the game's reputation, its relationship with sponsors, its relationship with governments around the world."
Regan hoped that Blatter's resignation would help restore Fifa image among the public and the business world.
"We've seen from the arrests last week and coming from the US Attorney General's office that there may well be more to follow that there's still more to happen at Fifa before it can start to be rebuilt," he added.
"But I think it's very good news that, now there will be an extraordinary congress, a new leader can be appointed.
"That will restore confidence, particularly among sponsors, broadcasters and the fans mainly."