Exeter City: More signings to come says manager Paul Tisdale
By Brent Pilnick
BBC Sport
Last updated on .From the section Football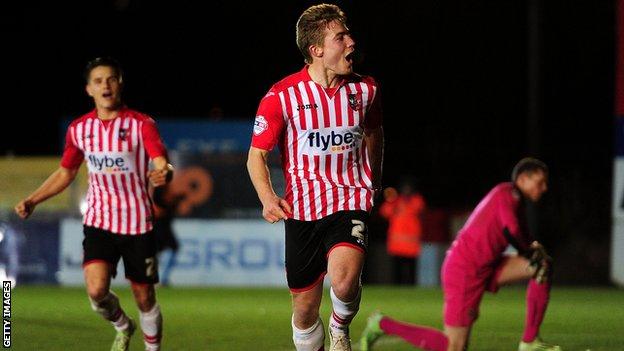 Exeter City boss Paul Tisdale says there will be more signings at the club, exactly a year after they were placed under a transfer embargo.
But following the club-record sale of Matt Grimes to Swansea for £1.75m in January, Tisdale faces a much busier summer in 2015 than 12 months ago.
"We have to improve every area of our team," Tisdale told BBC Sport.
Exeter have already brought in free agents Bobby Olejnik,Lee Holmes and Manny Oyeleke this summer.
Exeter's rollercoaster recent history

May 2003:

Exeter relegated to the Conference

May 2009:

Finish second in League Two, gaining promotion to League One

October 2003:

Club is taken over by Supporter's Trust, having been on the brink of collapse

May 2011:

Finish eighth in League One, their highest-ever league position, missing out on the play-offs by one point

January 2005:

Draw

0-0 with Manchester United

at Old Trafford in the FA Cup third round, before losing in a replay at St James Park. The money from the games helps to wipe out the club's debts

April 2012:

Relegated from League One after finishing second-from-bottom, eight points from safety

June 2006:

Appoint Paul Tisdale as manager

June 2014:

Club put under a transfer embargo after being forced to take out a loan from the PFA

May 2007:

Beaten 2-1 by Morecambe

in Conference play-off final at Wembley

August 2014:

Exeter pay off PFA loan and can sign players again

May 2008:

Beat Cambridge 1-0

in Conference play-off final to return to Football league after five years

January 2015:

Sell Matt Grimes for a club-record fee of £1.75m
It is a far cry from last summer when Tisdale had such a small squad on the opening day that he had to register himself as a player and take up a place on the substitutes' bench in their season opener at home to Portsmouth.
"We're in a different place than we have been over the last three or four years," Tisdale said.
"The summer so far has been an opportunity for me to build a team.
"There's two, three, four signings that will come in that will just raise the level of the team, and hopefully the mean average of the team, and give us a side that has players that are capable of moving us into League One."
But Tisdale is keen to stress that he will spend the windfall from Grimes' move to the Premier League wisely.
The club is owned by its fans through the Exeter City Supporters' Trust, and has no wealthy benefactor ready to write a cheque should a cash injection be needed.

It means the club is using the money to spruce up their St James Park ground, as well as make improvements to their training facilities, which were hit hard by wet weather last winter.
"It's not just about boom or bust," said Tisdale, who after Arsene Wenger is the longest serving manager in English professional football, having taken the reins at Exeter in June 2006.
"We can all spend the money from Matt Grimes in one go and have a go at getting promoted, but it's not that type of club.
"We're not going to try and do that. It's about spreading that investment over the facilities and other areas of the club.
"Some of that is going into the playing squad, but it's not in one go. If you do it in one go for one year, what happens next year if you don't make it?"
Exeter finished last season in 10th place, and for a while flirted with the play-offs, having taken eight games to register their first win - they were in the bottom two until mid-September.
With their windfall spent in the right way, who's to say Tisdale will not be able to build a side capable of being promoted from League Two?