England game secondary to Scotland visit - Aiden McGeady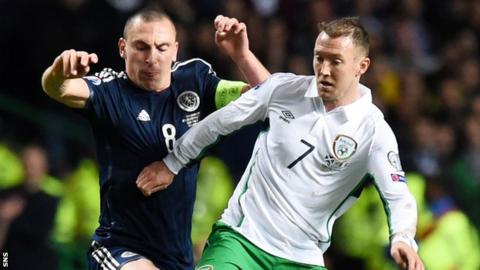 Aiden McGeady says Sunday's friendly at home to England will be overshadowed by the visit by Scotland to the Republic of Ireland that follows.
The 29-year-old Everton winger has set his heart on revenge for Ireland's 1-0 Euro 2016 qualifying group defeat at Celtic Park in November.
"The England one is obviously a big game as well, but the Scotland one's the big one, obviously," he said.
"We want to get our own back on them from the last game."
Ireland sit fourth in the Group D table, two points behind Scotland and Germany and a further point adrift of Poland.
And Paisley-born McGeady says the defeat in Glasgow was made more painful by the barracking he received from the fans in the land of his birth.
Asked if he had ever before received that level of abuse, the former Celtic winger replied: "No, never before like that.
"It was a game I wasn't really looking forward to because I knew it would be like that.
"But it would have been great if he had won, if I'd scored, if I'd played well and really just won, to be honest with you.
"But we didn't and it made it a whole lot worse because I know all the Scottish players, and I know a lot of Scotland fans, who bring it up to me when I'm home.
"But mainly from the team's point of view, it would have been a big point for us if we had drawn."
Everton team-mate James McCarthy was also born in Scotland, but the former Hamilton Academical midfielder missed the game.
"Probably it was worse for me because James McCarthy was injured as well, wasn't it?" said McGeady.
"It was just basically me taking the brunt of the abuse."
Another Everton team-mate, Steven Naismith, started for the Scots and had his own carefully chosen words for his friends from Ireland.
"He tried to give me a little bit, but I knew he was joking," said McGeady. "That's what he's like.
"Hopefully we can win and give him a bit of stick when we go back in pre-season. That'll be good."
The Irish would have been further adrift in Group D if it had not been for a stoppage-time equaliser in March that forced a 1-1 draw the Poles.
"I suppose we have to win," McGeady said of the game against Scotland in Dublin.
"If we don't, we slip away. There will still be few games left, but you'd be hoping Scotland and Poland drop points."