Torquay United: Consortium close in on takeover deal
By Brent Pilnick
BBC Sport
Last updated on .From the section Football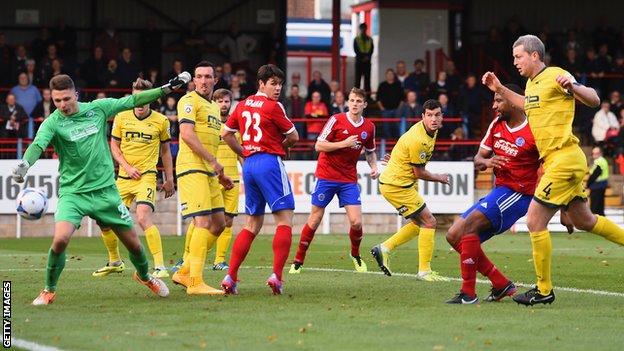 The group bidding to take over Torquay United could complete a deal for the Conference club by Monday.
The consortium will lodge a five-figure sum with the league in time for its annual meeting to prove they can meet their financial obligations.
"We've agreed with the present board that we will stump up the bond to give assurances to the Conference," consortium leader Dean Edwards said.
"But that's not to say that the deal is finally over the line," he added.
"But if I get the phone calls in that I'm expecting, I would like to look at Monday as when I can get behind the scenes, as I need to get to work."
Former Torquay striker Edwards has been hoping to take over the club from the current board.
Torquay takeover timeline
January 2015:
Chairman Thea Bristow appoints advisor Kelvin Thomas to find the club a buyer
March 2015:
Bristow steps down from role at club
May 2015:
A proposed takeover of the club falls through
May 2015:
Consortium of local businessmen given exclusive bidding rights to the club
June 2015:
Consortium given exclusive rights to bid for the club
"This place is on the life support machine, and the finger's on the switch," Edwards told BBC Sport.
"At the moment it's 75% that it'll stay alive and it's 25% that it will fail, but that 25%, even if we did stay, could be critical.
"It's time for the Torquay public to stand up, save their club and save their community.
"I know it's what they want. Give me a call if anybody's prepared to invest in Torquay United.
"We need the money. This club can be saved and it can become a viable business, it just needs its house putting in order and it needs to be run properly."