Sepp Blatter: Russia continue with 2018 World Cup plans
Last updated on .From the section Football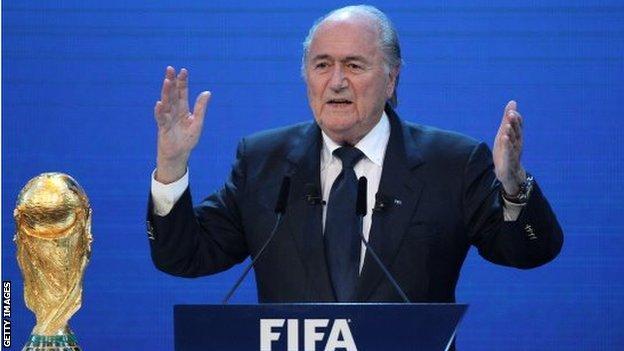 Russia is continuing with preparations to host the 2018 World Cup, despite the criminal investigations into Fifa.
Swiss prosecutors are investigating the bids for the 2018 and 2022 World Cups, won by Russia and Qatar respectively.
Fifa president Sepp Blatter resigned on Tuesday, four days after being re-elected as head of world football's governing body.
The head of Russia's Olympic Committee, Alexander Zhukov, said: "I think there will be no kind of boycotts."
After Blatter was re-elected, Football Association chairman Greg Dyke said his organisation would support any boycott of the 2018 World Cup led by Uefa, European football's governing body.
Zhukov added: "We have heard statements, including from politicians... but I think the sporting community will never do it and won't allow the world of sport to be split.
"Cooperation with Fifa is going on and, most importantly, Russia continues preparations for the 2018 World Cup."
United States prosecutors launched their own criminal inquiry last week, with seven Fifa officials arrested on charges of racketeering, wire fraud and money laundering.
The charges are part of a prosecution that indicted 14 people from around the globe.
Qatar have also stated their determination to remain as hosts of the 2022 World Cup, despite Dyke's suggestion the vote to decide the venue could be re-run.
Qatar FA president Sheikh Hamad Bin Khalifa Bin Ahmed Al-Thani said: "We would urge Mr Dyke to let the legal process take its course and concentrate on delivering his promise to build an England team capable of winning the 2022 World Cup in Qatar."