Scotland will hold back against Qatar says assistant Mark McGhee
Last updated on .From the section Football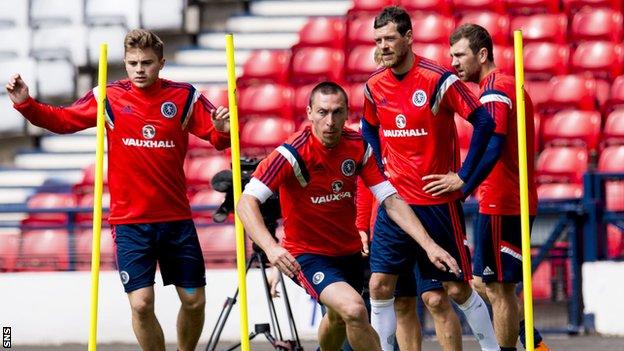 Scotland assistant manager Mark McGhee admits the players are unlikely to give their all in the Easter Road friendly with Qatar on Friday.
McGhee said they will hold back ahead of the crucial Euro 2016 qualifier against Republic of Ireland next week.
"I think they will approach the game in a way that is controlled," he said.
"They will go into it in a measured way; giving enough to get a result but keeping something for the Republic game."
Qatar, who are ranked at 99 in the Fifa rankings, 69 places behind Scotland, face Gordon Strachan's men eight days before Scotland face the Republic in Dublin.
"It's not a game that they have to give everything in the way they will against the Republic," said McGhee.
"I'm not diminishing the game, but the Qatar game is preparation for the Ireland game.
"We didn't choose from every country in the world and then choose Qatar. Qatar were one of a couple of options we had, only a couple of options to play.
"They were going to be in this country, they were playing games already and they looked like they could be competitive opposition that suited us to play at this moment in time.
"They're going to work us hard, they're physical, we've watched several videos of them, including the game against Northern Ireland the other night. They worked Northern Ireland hard, they gave them a match."
McGhee says that, despite the game coming so close to the end of the season, the players are in great shape.
"They trained yesterday and they've trained today and they don't look like they've missed a beat," said the Scotland assistant.
"They've all got a chance against Qatar, but that's not been decided."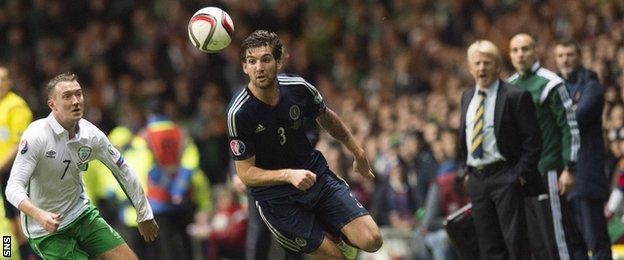 McGhee picked out on-form Celtic striker Leigh Griffiths for special praise.
"Since Christmas, he has done brilliantly," he said. "Some of our medical team commented that he looks better.
"He looks leaner, he looks a better body shape than some of the other times he's been with us, so clearly there's been an improvement in Leigh in all sorts of ways."
McGhee was speaking a day after Fifa president Sepp Blatter announced he would step down from his position on the back of FBI investigations into several members of football's governing body.
"I can only hope that the truth comes out," said McGhee. "If Mr Blatter is innocent then I hope he's proven to be innocent - in many ways I hope he is.
"If he's not then I hope the authorities come to some conclusions.
"Regardless of whether he is or he isn't, there's a change coming and I just hope that change is a positive one and is an exciting one."