Fifa failings 'despicable and awful', says David Beckham
Last updated on .From the section Football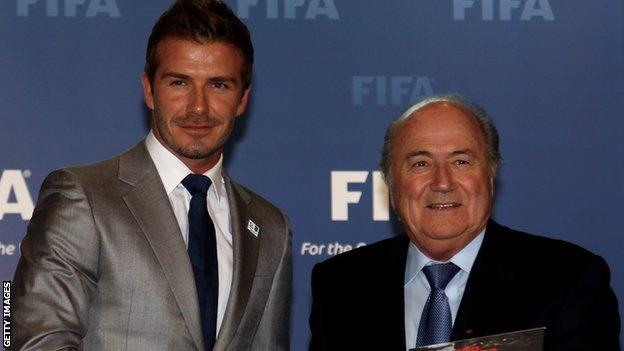 Former England captain David Beckham says "it is time for Fifa to change" after Sepp Blatter said he would stand down as the organisation's president.
Blatter plans to end his 17-year reign after Fifa became the subject of two significant corruption probes.
"I hope at last we are now moving in the right direction," said Beckham.
"Some of the things that we now know happened were despicable, unacceptable and awful for the game we love so much."
US investigators arrested seven Fifa officials on charges of charges of racketeering, wire fraud and money laundering.
Swiss prosecutors are also looking into the bidding process for the 2018 and 2022 World Cups, to be held in Russia and Qatar respectively.
Beckham, who is now retired after a career that took in Manchester United, Real Madrid, LA Galaxy, AC Milan and Paris St-Germain, was part of England's failed bid to host the 2018 World Cup.
"Football is not owned by a few individuals at the top, it belongs to the millions of people around the world who love this sport," he said.
"It is time for Fifa to change and we should all welcome it."