Paul Clement appointment 'pivotal' to Derby County dream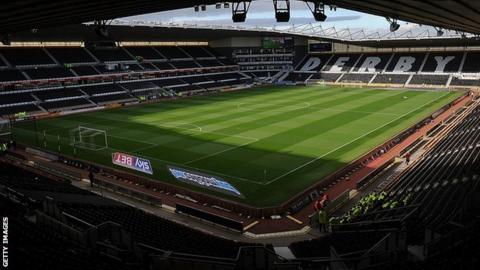 New Derby County chairman Mel Morris says appointing Paul Clement as boss was "pivotal" to the aim of becoming a sustainable Premier League team.
Derby-born local businessman Morris, 59, was confirmed as Andy Appleby's replacement on Wednesday, but Appleby will continue as a director.
Morris, who first joined the board in 2006, rejoined as a director last year.
"The appointment of Paul and additions planned for his back office team are pivotal to this next phase," he said.
Former Real Madrid assistant Clement, 43, has replaced Steve McClaren, who is set to be named Newcastle United head coach.
McClaren was sacked last month after the club finished eighth in the Championship and missed out on a play-off place.
Morris added: "In spite of a disappointing end to last season, I am extremely excited that we can promptly get back on course with our goal to develop Derby into a professional football club capable of achieving a sustainable place in the Premier League."
Morris has become increasingly involved with the club since returning as a director in May 2014.
Chief executive Sam Rush said: "Since his arrival onto the board just over a year ago we have formed a strong working relationship, which bodes well for the future."