Fifa crisis: England 'ready to host 2022 World Cup if asked'
Last updated on .From the section World Cup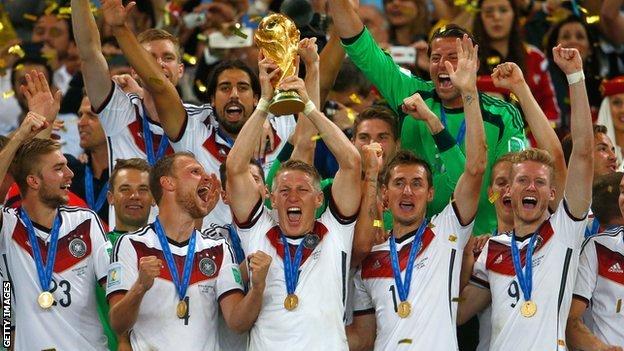 England would be ready and able to host the Fifa World Cup in 2022 if it is stripped from Qatar, according to a British government minister.
Swiss and US authorities are looking at corruption claims around the bidding processes for the 2018 and 2022 events.
UK Sport Secretary John Whittingdale says England has the facilities but added it is unlikely to happen as Russia is staging the 2018 tournament.
Under Fifa rules the Cup cannot be held on the same continent twice in a row.
The shock resignation of Fifa president Sepp Blatter on Tuesday has intensified calls for the 2022 bidding process to be re-run, if that process is proved to have been corrupt.
Qatar organisers have always denied any corruption in their bid.
Speaking in the House of Commons on Thursday, Whittingdale said: "If Fifa came forward and asked us to consider hosting it, we have the facilities in this country and of course we did mount a very impressive, if unsuccessful, bid to host the 2018 World Cup.
"In terms of the decision to hold the 2022 World Cup in Qatar, that is obviously something which we are watching, but at the moment that decision stands.
"If it were decided to change that, I think as the chairman of the English FA Greg Dyke observed, if Russia hosts the World Cup in 2018 it does seem very unlikely that another European country would host it in 2022."
Prime Minister David Cameron has backed Whittingdale's comments but said his priority is "cleaning up" Fifa.
Australia, who lost out to Qatar in the bidding process, has also indicated it could step in.
However, Australian sports minister Sussan Ley has made it clear the country would not make another bid to host a World Cup until there are major changes at Fifa.
2018 and 2022 World Cup bidders and winners
2018:
Russia,
England, Belgium and Netherlands, Portugal and Spain
2022:
Qatar,
Australia, Japan, South Korea, United States
The bidding process for the 2018 World Cup, which England unsuccessfully contested, is also under scrutiny.
Swiss authorities revealed last week they were looking into how the 2018 and 2022 tournaments were allocated, while America's FBI has also announced it has launched an investigation.
However, Russian sports minister Vitaly Mutko insisted there was "no risk" of his country being stripped of its rights.