Pat Baldwin: Defender to balance teaching with Weymouth move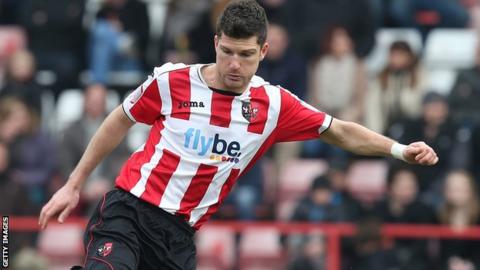 Former Exeter City defender Pat Baldwin is to balance a teacher training course with a move to part-timers Weymouth.
The 32-year-old was released by Exeter last month after missing most of the season with a serious knee injury.
"The way my body's going, if I played for another three or four seasons I wouldn't be able walk in 10 years," Baldwin told BBC Sport.
"I've got no doubt I could've continued to play at a higher level but I have the rest of my life to think about.
"The main decision is for the future of my family."
He had thought about retiring from the game altogether, but has now signed a one-year deal at Southern Premier League side Weymouth.
"I was really impressed with the manager Jason Matthews and logistically it works perfectly. That's one of the main reasons I signed," added Baldwin.
"I still feel as though I've got a lot to offer. I feel fitter than I did before the injury to be honest and I had the opportunity to play in higher leagues.
"Hopefully I can balance both. I've heard how intense teacher training can be and it's unpaid, while the football will bring a bit of money in."
Baldwin, who spent nearly a decade at Colchester, is studying for a Post Graduate Certificate in Education (PGCE) and is on the path to becoming a primary school teacher.
It is a career change already made by former Hull and Blackpool striker Ben Burgess, and Baldwin says that is not all the pair have in common.
Baldwin and Burgess - the parallels
They were professional footballers
They have retired from playing full-time due to knee problems
They have studied to be teachers
They are married to graphic designers
"It's quite weird how our lives have paralleled," he added.
"I've been planning to go into teaching for a few years and his wife's even a graphic designer like mine.
"I'm going to have to pass a couple of exams and get myself through teacher training in September."
Baldwin, who is based in East Devon, has not ruled out going into football coaching at some stage and former boss Paul Tisdale has previously said he would like to see him involved at Exeter again in the future.
"Football is a very enclosed environment and you're kind of expected to go into the coaching route. I'm going to try and get involved with Exeter's academy on an informal basis for the time being," said Baldwin, who made 89 appearances for Exeter over a three-year period.
"There are no promises in football so I don't expect anything but Paul is a great guy who I have a lot of respect for and if an opportunity comes up in a year or so it could be great."