Manny Oyeleke: Exeter City can get promoted, says midfielder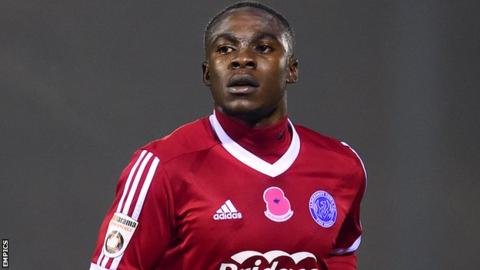 Exeter City have the potential to get promoted to League One, according to new signing Manny Oyeleke.
The 22-year-old midfielder was Exeter's first signing of the summer after he was released by Brentford last month.
"If we believe in ourselves, have a good start and keep the confidence high, I think we can go all the way.
"Nobody wants to start the league off thinking 'let's just survive', the players are hoping for play-offs or automatic promotion," he said.
Oyeleke has spent time on loan at Aldershot and Woking in the Conference Premier and made just two appearances for Brentford.
And he says that despite his relative lack of Football League experience, he also played twice in League Two for Northampton Town in 2013, he feels he can make an impact for Exeter.
"I can bring a lot of creativity and ingenuity into the team," Oyeleke told BBC Sport.
"I was here on a two-day trial and what I did then must have impressed the management, although I felt I could have done a bit better to be honest.
"But as soon as I got into the changing room for the trial there were lots of posters of players that have been at the club who have gone on to higher clubs.
"I didn't realise that they had started their careers at Exeter, players like Dean Moxey and George Friend.
"It shows me that if I really do well and work hard it is a club that is looking to develop players.
"That's really refreshing because in London young players don't normally have the time to develop because the manager that likes them could be there for two years and then gone the next year, and another manager comes in.
"It shows me it's a very stable club, a very family-orientated club and that's something I really need now in my career."