World Cup loss would hit Qatar hard, says Brian Rice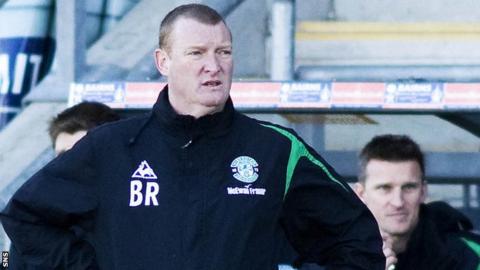 Qatar-based coach Brian Rice says the Middle East nation's population would be devastated if they lose the right to host the 2022 World Cup.
Swiss authorities have launched an investigation into the World Cup bidding process as Fifa officials face corruption charges in the USA.
"Thousands of jobs depend on the world cup and the facilities that are being built are unbelievable," said Rice.
"The country is working round the clock building them."
Rice, the former Hibernian, Nottingham Forest, Stoke City, Falkirk, Dunfermline Athletic and Clyde midfielder, is coaching at Al Khor in the Qatar top flight.
The former Greenock Morton, Airdrieonians, Falkirk and Hibernian assistant says it would also be a blow for the Qatari national team if the country lost host status.
"The football authorities are already building a team for 2022," he said ahead of Qatar facing Scotland in Friday's friendly in Edinburgh.
"They'll want to win, they always do.
"They are using it as a warm up for their World Cup 2018 qualifier against the Maldives.
"They are a good team, especially at home, but I think, at Easter Road, Scotland will be too strong for them."
Scotland's First Minister, Nicola Sturgeon, avoided criticism of the Scottish Football Association's decision to host the friendly in the Scottish Parliament but stated it is also legitimate to view sport as "a good way to engage and highlight human-rights abuses".
"The decision on the match is one for the SFA and I respect the decision to go ahead with the match, just as I respect the decision of some fans not to attend," she said.
Asked by Green MSP Alison Johnstone if the Scottish Government could work with sporting bodies to established criteria or a policy to stop "inappropriate fixtures", Sturgeon said said: "I am happy to explore how these things can be dealt with better so that some of what we are now grappling with can be avoided in future."
"Scottish ministers share the concern of many about the treatment of migrant workers in Qatar and we condemn human-rights abuses in the strongest possible terms.
"We sought to engage constructively with Qatar on human rights, for example we have offered to share Scotland's experiences in hosting major sporting events such as the Commonwealth Games to help embed human rights and safe working practices into the preparation of the Qatar World Cup."
Meanwhile, Qatar head coach Jose Daniel Carreno insisted that he has been treated well as a foreign worker in Qatar.
Some fans have called for a boycott of the game because of human rights concerns over foreign workers building World Cup facilities.
However, the Uruguayan said: "We are very comfortable.
"They treat us very well and there are more than two and a half million foreigners working in a country with a small number of inhabitants.
"Everybody's watching Qatar and we are going to give a good image on the soccer field."
Carreno said he had no idea about the reaction in Qatar to events at Fifa.
"We just came to play to prepare for our World Cup qualifying match and haven't been in Qatar," he said.
"I am just the coach and concentrating on making the team better.
"We are just worried about qualifying for Russia in 2018 as Qatar has no history in World Cups."