Nicolo De Marchi: Juventus fan walks to Berlin for Barcelona ticket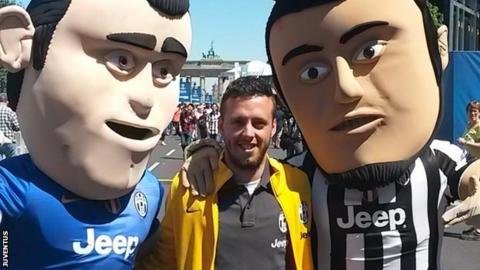 "I would walk 500 miles and I would walk 500 more just to be the man who walked a thousand miles to see Morata score."
The Proclaimers have not re-worked their lyrics but one Juventus fan may well have nightmares when he hears their classic song after completing a colossal walk to the Champions League final.
Nicolo De Marchi has trekked 683 miles from Turin to Berlin - where his beloved Juventus meet Barcelona on Saturday - to get his hands on a ticket, which the Italian club said they would provide if he completed the journey to the prestigious final.
His efforts stem from a pledge he made when tweeting the club on their 'if we get to the final' hashtag prior to the Old Lady's semi-final win over Real Madrid.
"I will go on foot," wrote the 22-year-old, who has passed through Italy, Austria, Switzerland and Germany on his route.
He arrived a day later than planned because, as he explained on Instagram, "the fatigue was so great".
Staff at Juventus - a club without a European Cup success since 1996 - were inundated with pledges from fans saying they would get tattoos or marry at the final if the club qualified.
And when they did, with a 3-2 aggregate win over Real, Nicolo received a shock when Juve issued their challenge.
The club said it "threw down the gauntlet" to Nicolo, who has been allowed to use a bike for parts of the journey and a car for 12 miles because of hazardous conditions, and he has now matched his words with his actions.