Scotland: Gordon Strachan warns players against heavy challenges
Last updated on .From the section Football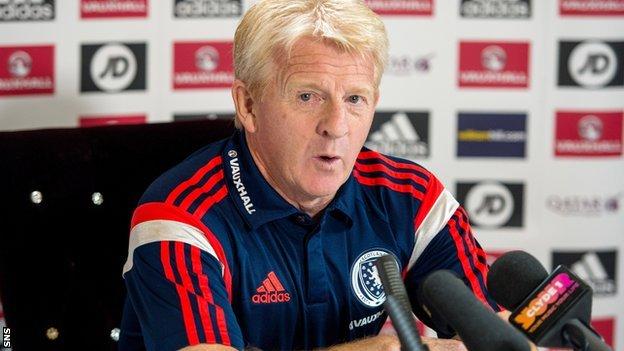 Scotland manager Gordon Strachan has told his players to avoid heavy tackles in Friday's friendly against Qatar.
Scotland prepare for next weekend's Euro 2016 qualifier with Ireland by taking on the 2022 World Cup hosts at Easter Road.
But Strachan is keen to have a fully-fit squad ahead of the Group D clash as Scotland attempt to reach France.
"They have to be sensible," he said. "But when you let players go and enjoy a game then you never know."
Scotland are in third place, equal on points with second-placed Germany in Group D, heading into the Dublin qualifier on 13 June.
And, with many of Strachan's players now enjoying their summer break, he expects them to be wary of picking up injuries ahead of the clash.
"It's only common sense that if you see something coming that you might get out of the way," said Strachan.
"I had a radar on me that I could see a tackle coming a mile away - I just hope the players have got the same radar.
"I think the lads will give everything in terms of physical ability. But I really don't want to see people clattering into each other.
"They will go for things. I don't think I can say to Scott Brown don't tackle somebody.

"But there might be points during the game when you say 'that tackle isn't worth going for'."
Six members of his group have not played since the English Championship season ended on 2 May, but the manager insists the Qatar friendly will ensure there is no rustiness when they run out at the Aviva Stadium.
The decision to take on Qatar has proved controversial given the plight of migrant workers in the country's World Cup project, with a section of the Tartan Army planning to boycott the match in protest.
Strachan declined to take questions on the subject as he held his pre-match press conference at the squad's Mar Hall training base.
However, he did remark on the revelations that have brought about the resignation of Fifa's president Sepp Blatter and the indictment of several key Fifa executives on money racketing charges by the FBI.
"I think people always use the statement of footballers are role models - it's not rugby players, it's not rugby players or tennis players - it's always football players," said Strachan.
"The same can be said about the executives who run the game - they should be role models as well.
"When we get role models in place then football will be a better place."