Alex McLeish has yet to be approached about Rangers job
Last updated on .From the section Football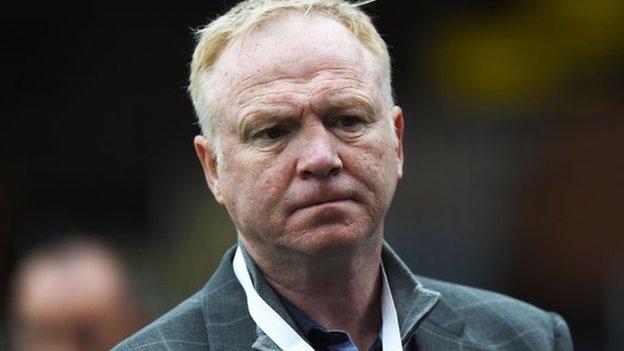 Former Rangers manager Alex McLeish has not been contacted about a return to lead Rangers, BBC Scotland has learned.
McLeish managed at Ibrox between 2001 and 2006, winning two league titles and two Scottish Cups.
The Rangers board are speaking to a number of candidates after Stuart McCall failed to overcome Motherwell in Sunday's play-off final.
The 56-year-old was recently in charge of Belgian side Genk, assisted by ex-Rangers midfielder Alex Rae.
Speaking on BBC Radio Scotland's Sportsound programme, Rae said he would welcome an opportunity to return to Rangers with McLeish.
"For me, I think it would be ideal," said Rae.
"It would be a great opportunity to come back to the team I supported, but what I'm led to believe is that no-one has contacted him from within Ibrox.
"It's a bit disrespectful, because Stuart is still currently the manager.
"Time is of the essence. I think part of the due diligence is spilled over for a couple of months which normally wouldn't have been the case.
"For me, I would love someone to pick the phone up - whether it's just as a consultant to get Alex ideas.

"I don't even know who is consulting Rangers, as we speak in terms of football matters and what direction to go."
Rae arrived at Ibrox in 2004 and spent two years there, playing 34 games. He went on to manage at Dundee from 2006-2008 before spending time at MK Dons on a temporary basis working under his former Wolves teammate Paul Ince.
Last year, he became assistant manager at Genk, working with Alex McLeish, finishing sixth in the Belgian Pro League.
"It was a difficult ask for us, in terms of being away from our families for a year," said Rae of his experiences in Belgium.
"The football side was tremendous, it was great to work under Alex.
"It was 10 years ago I played under him, and he's matured into a top manager.
"When I saw him when he was younger he was confrontational and full of energy. I was a bit surprised when I worked hand in hand with him, how relaxed he was about things.
"Ultimately, you would like to have a go again, because you get that flavour for management, and it never leaves you, and whenever that comes, I'm not in any rush, but ultimately I'd like to get back in at some stage and I'd love to work with Alex again because he was excellent - I really enjoyed working with him.
"Rangers said something about a foreign manager the other day - I'm not sure that's the road Rangers need to go down, but that's just my view.
"They might have a medium to long-term plan in place which hopefully, sooner, rather than later we'll have a better idea of."