Football League plans changes to black manager recruitment
Last updated on .From the section Football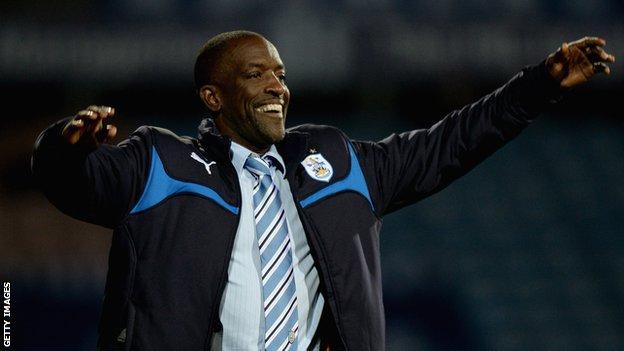 The Football League is planning to introduce a version of American football's 'Rooney Rule' to boost the numbers of black managers in the game.
The plans will see clubs interview one black minority ethnic (BME) candidate for each head coach or manager role from the 2016-17 season.
Only six black managers are currently employed at the 72 League clubs.
"Our clubs will provide the majority of employment opportunities," said League chairman Greg Clarke.
Following QPR's relegation to the Championship, Chris Ramsey joins Brighton's Chris Hughton, Huddersfield's Chris Powell, Burton's Jimmy Floyd Hasselbaink, Ricardo Moniz of Notts County and Keith Curle of Carlisle as the six black managers in the Football League.
What is the 'Rooney Rule'?
The 'Rooney Rule' was established in 2003 and named after Dan Rooney, owner of the Pittsburgh Steelers and the chairman of the NFL's diversity committee. It requires NFL teams to interview at least one black or ethnic minority candidate for head coaching and senior football operation opportunities that become available, as part of a transparent and open recruitment process.
Last September, Professional Footballers' Association chief executive Gordon Taylor claimed that football has a "hidden resistance" preventing black managers getting jobs.
This came after the Football League failed to fulfil a "promise" to discuss the potential implementation of a 'Rooney Rule' at their 2013 annual general conference, for which Clarke was criticised.
In a statement released on Thursday, the Football League revealed that clubs had backed a series of proposals designed to increase employment opportunities for BME candidates.
These will be finalised before being voted on at the League's 2016 annual general meeting.
Dan Rooney, the architect of the NFL's 'Rooney Rule'
"I am encouraged to see The Football League taking inspiration from the work of the NFL while creating a programme of measures that are tailored to the specific challenges facing English soccer. I hope these proposals make the same impact in England that the Rooney Rule has in the NFL."
The proposals, which have received the backing of Dan Rooney, the chairman of the Pittsburgh Steelers and the architect of the NFL's 'Rooney Rule', include:
Five to 10 clubs will pilot a "voluntary recruitment code" to interview a BME candidate for any first-team managerial or coaching position.

Clubs must interview at least one BME candidate for all youth development roles requiring a minimum of a Uefa B coaching licence.

A 'ready-list' will be created of identified current BME coaches and players "with the potential and aspiration to coach in professional football" and networking opportunities improved.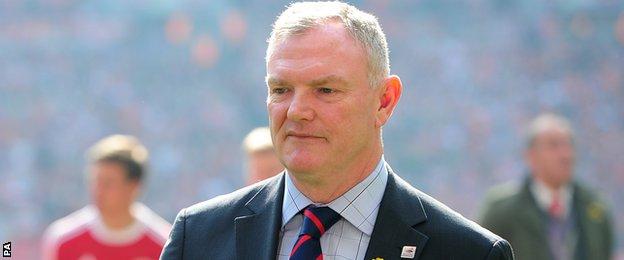 "It is apparent that this is an industry that places great value on previous experience and personal relationships, which can sometimes act as a barrier to those that are less able to get a foot in the door," added Clarke.
"These proposals are intended to try and address such issues, which seem to disproportionately affect those from a BME background, while at the same time leaving employment decisions solely in the hands of clubs, as it should always be for them to decide who they wish to employ."
The implementation of a 'Rooney Rule' in football has been backed by a number of leading figures within the game, including Football Association chairman Greg Dyke and current managers from BME backgrounds, Curle and Hughton.
In November, Premier League chairman Richard Scudamore said there was no need for England's top flight to adopt the rule after its 20 clubs voted to introduce new measures designed to increase top-flight coaches from BME backgrounds.