Cheltenham Town: Coffee spill nearly 'halted' Harry Pell deal
Last updated on .From the section Football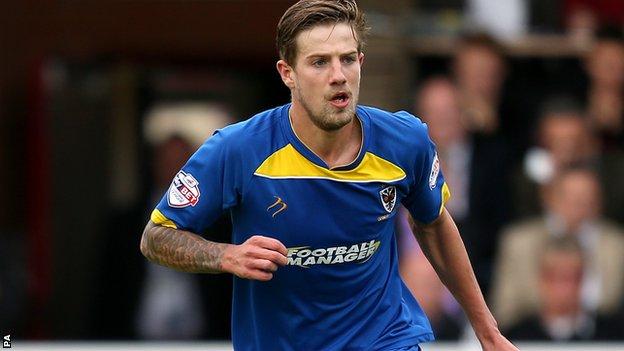 Cheltenham Town manager Gary Johnson has joked he nearly did not sign new midfielder Harry Pell after he spilled coffee over his carpet.
The player himself revealed: "His wife put on a lovely spread and I managed to spill coffee all over their cream rug."
And Johnson told BBC Gloucestershire: "I nearly didn't sign him because of that, coffee all over my brand new carpet."
Johnson added: "He apologised nicely and I let him off and hopefully if he puts in the performances I think he is going to put in he will more than make up for it."
Johnson is excited about the impact the former Bristol Rovers, Hereford, AFC Wimbledon and Eastleigh player can have at the club, who were relegated to the Conference at the end of the season.
"Over the years as I watched him as a teenager at Hereford I thought he had an old head on young shoulders," he said.
"Because of that I followed his path, some clubs he done OK at and some he didn't do what I think he can produce and maybe a different manager can bring out the best out of him. That's what he needs, a manager who can link with him.
"He is a very good athlete, a big fellow at six feet, four inches.
"He will be imposing and we have to make sure he is does a lot in both penalty areas. He can dictate a game if he wants because he has that ability and personality and the big thing for me is he is a winner."