Liverpool freeze matchday ticket prices at Anfield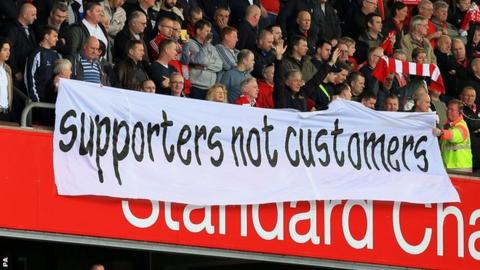 Liverpool have frozen general admission matchday ticket prices for the 2015-16 season, the club has announced.
The Reds have been working with a ticketing working group made up of Liverpool supporters' organisations.
The BBC's Price of Football survey 2014 found Liverpool's cheapest ticket for a home game was £37, compared to the Premier League average of £28.80.
"We're pleased the club has listened to our concerns about ticket prices," said working group member Bob Humphries.
Humphries, who is also LFC Supporters Committee chairman, added: "They have, at least in the short term, agreed to change their proposals and freeze prices to allow us time to work with them to find solutions."
The LFC Supporters Committee is a member of the ticketing working group along with Spion Kop 1906 and Spirit Of Shankly.
Visit the Price of Football calculator to see how much you spend supporting your team.
Liverpool had already frozen adult season ticket prices for next season and announced a 10% reduction in junior season tickets.
Ian Ayre, Liverpool's chief executive, said: "We have worked in collaboration with the ticketing work group as we look at practical initiatives to increase accessibility and affordability of tickets at Anfield."
Liverpool fans protested over ticket prices at Anfield during a goalless draw with Hull in October and some of the club's fans boycotted the return league fixture in April because of the £50 price of tickets.