FA chief 'not interested' in hosting 2018 and 2022 World Cups
Last updated on .From the section Football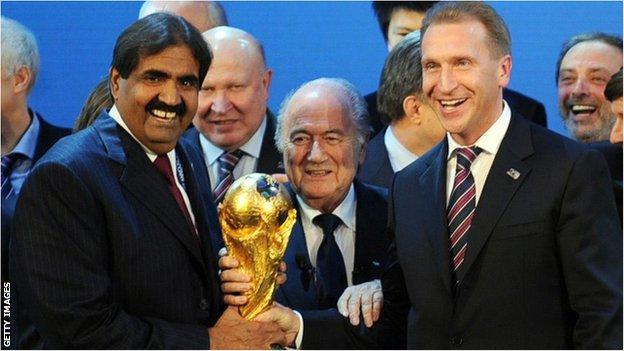 The Football Association has no interest in hosting the 2018 or 2022 World Cups if they are taken away from respective hosts Russia and Qatar.
Swiss prosecutors are investigating the bids for the tournaments, although Fifa says there will be no rerun of the bidding process.
UK Culture Secretary John Whittingdale says England could step in as a ready-made replacement if asked.
But FA chief executive Martin Glenn said: "We are really not interested."
2018 and 2022 World Cup bidders and winners
2018:
Russia,
England, Belgium and Netherlands, Portugal and Spain
2022:
Qatar,
Australia, Japan, South Korea, United States
Speaking to Sky News, Glenn added that the 2018 tournament "has gone to Russia in good faith".
"They have not had a World Cup, why shouldn't they play there? And 2022 was never going to be in Europe [under Fifa rules] so it should be outside of Europe," he continued.
"So we support the World Cup being dispersed around the world, as the name suggests."
In addition to the Swiss investigation, seven senior Fifa officials have been arrested among 14 indicted on corruption charges by the United States Department of Justice.
Despite subsequently being re-elected, Sepp Blatter has announced he is to quit as president of world football's governing body.
"We are very pleased that there is going to be change at Fifa," said Glenn.
"We will work with Uefa and Fifa to make sure there is progress. We need someone who is strong and will professionalise the set-up [as president]."