Gareth Bale v Ryan Giggs: How do they compare for Wales?
By Dafydd Pritchard
BBC Wales Sport
Last updated on .From the section Welsh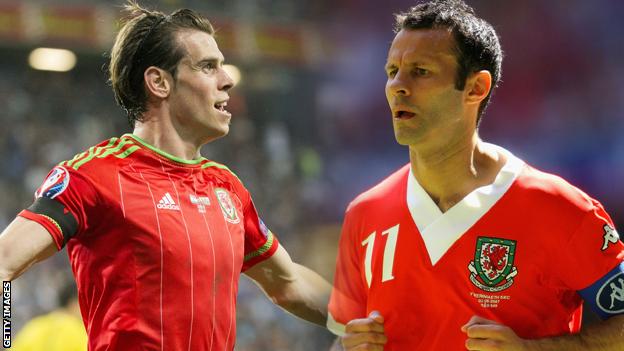 Two players have defined Welsh football for the last quarter of a century: Gareth Bale and Ryan Giggs.
While Wales' 57-year absence from major tournaments has seen them floundering in the game's lower echelons, Bale and Giggs have established themselves among the elite at club level.
Giggs is retired now, and there was only a brief overlap between his and Bale's international careers, the pair playing only three games together.
But as Bale prepares to win his 50th Wales cap in Friday's Euro 2016 qualifier against Belgium, it seems a pertinent time to ask: who has been the best for Wales?
The Belgian connection
Comparing players from different eras can be devilishly tricky and seriously divisive.
Lionel Messi or Diego Maradona? Pele or Cristiano Ronaldo? As heated as the arguments may be, they are often difficult to resist.
Wales' match against Belgium is significant for a number of reasons, primarily its importance in Wales' bid to end their long wait for an appearance at a major tournament.
It is also a fixture with added meaning for Giggs and Bale.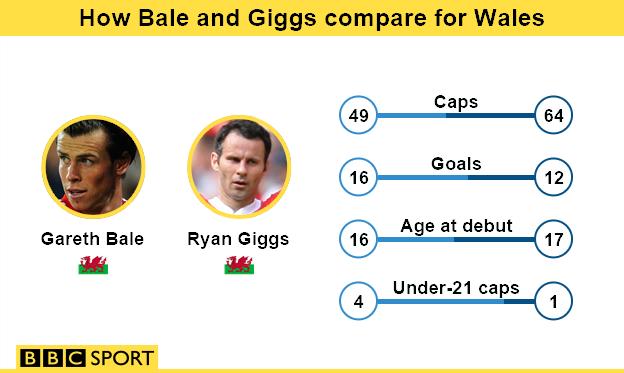 Despite being one of the Premier League's most decorated players, Giggs' Wales career was tainted by the suggestion he never truly replicated his Manchester United form for his country.
Giggs' finest moment in a Welsh shirt was arguably his first goal, a free-kick whipped into the top corner which set Wales on their way to a 3-0 win against Belgium in 1993.
The winger went on to score 12 goals in 64 appearances, while Bale has struck 16 times in his 49 caps to date.
Is it a fair comparison?
Still only 25, Bale has been tipped to overhaul Ian Rush's record of 28 goals as Wales' all-time leading scorer.
The Real Madrid player's recent international form is remarkable, scoring 10 times in his past 14 appearances.
That owes much to the fact that, since joining the Spanish heavyweights for a world record £85m in 2013, Bale has played as a forward.
So is it fair to compare his Wales exploits with Giggs?
Bale may now be playing in a more advanced role, but he began his career as a left-back and scored his first goal for Wales as a defender - like Giggs, with a sweet, left-footed free-kick.
Giggs played as a winger and, although he may not have been quite as far upfield as Bale is these days, the former Manchester United man had ample opportunities to burst forward.
What do others think?
Former Manchester United and Barcelona striker Mark Hughes played alongside and managed Giggs for Wales, and he thinks Bale has done more for the national side, although Giggs was a "great player".
"Arguably Ryan didn't have as much of an impact as Gareth has for whatever reason," says Hughes, now in charge of Stoke City.
"At the moment Gareth seems to have good players around him that are able to help him and make sure he has the impact that everybody in Wales wants from him."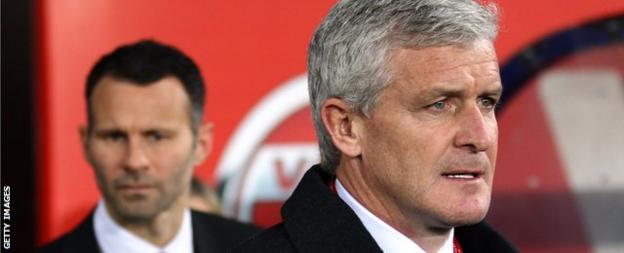 Hughes raises an important point. One of the reasons why Bale's Wales have such a strong chance of qualifying for a major tournament is the quality of the Real Madrid player's team-mates.
Although Giggs played alongside the likes of Hughes, Ian Rush and Craig Bellamy during his international career, Wales seldom had the balance the current squad possesses.
Captain Ashley Williams is a totem at centre-back, while his Swansea City team-mate Neil Taylor also offers Premier League experience in defence.
Joe Allen has matured as a player since joining Liverpool and, alongside him in midfield, Arsenal's Aaron Ramsey is a stylish playmaker who has shone in the Champions League and in the Gunners' successive FA Cup triumphs.
Who has risen to the occasion for Wales?
Wales have won nine of the 13 games in which Bale has scored, while they were victorious on eight of the 11 occasions Giggs found the net.
Examine the opposition in these games, however, and it is Bale's record which glistens.
Twice the former Tottenham man has scored two goals as Wales have come from behind to win qualifiers against Scotland and Andorra, while his other brace came in March's 3-0 victory in Israel.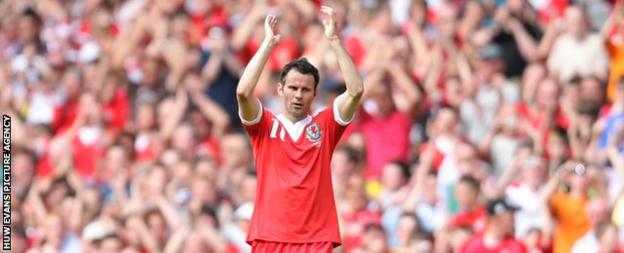 Although Giggs scored in narrow qualifying wins against Belarus and Northern Ireland, five of his goals came against San Marino and Azerbaijan.
Despite his stellar, trophy-laden career with United, Giggs struggled to rid himself of a reputation for failing to produce his best for Wales when it mattered most.
Bale, by contrast, turns up regularly for friendlies and, when Wales have most needed him in vital competitive matches, the Real star has risen to the occasion.
Can Bale succeed where Giggs failed?
Few players in history have a medal haul to rival Giggs, who won 34 trophies with United as well as an array of individual awards.
Although Bale has matched his countryman's feat of winning the Champions League, the former Tottenham winger's trophy cabinet seems bare in comparison.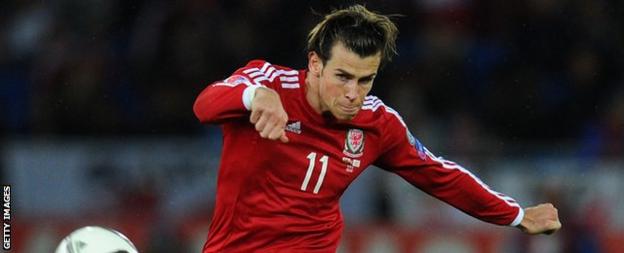 But the glaring void in Giggs's impressive CV is the lack of an appearance at a major international tournament.
Bale is still without one as well, but he has played a pivotal role in Wales' unbeaten start to their Euro 2016 qualifying campaign, leaving them second in Group B and behind leaders Belgium only on goal difference.
Giggs's club achievements are a match for almost anyone but, where Wales are concerned, Bale has the edge.
And if he can lead Wales to Euro 2016, Bale will seal his place among the very best in Wales' history.