Roy Hodgson says Jack Wilshere needs to show more self-control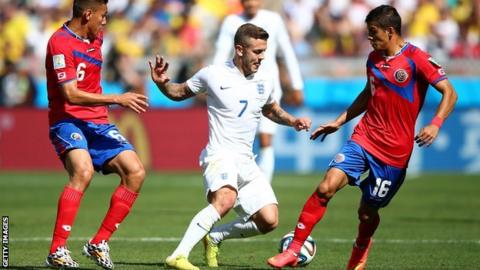 England manager Roy Hodgson says Arsenal midfielder Jack Wilshere must show greater self-control to avoid further disciplinary problems.
The 23-year-old was charged with misconduct by the Football Association this week for singing offensive songs during the Gunners' FA Cup victory parade.
"It is not the type of behaviour we encourage or want to see but unfortunately young men sometimes do things they shouldn't do, and regret it," said Hodgson.
"As far as I am concerned, it is his positive qualities I have got to concentrate on. I will leave the FA and Arsenal to try to make certain that he curbs his enthusiasm to do the wrong thing from time to time."
Wilshere will find out his punishment next week but Hodgson says the incident has not affected his situation in the England squad ahead of Sunday's friendly with Republic of Ireland and next week's Euro 2016 qualifier against Slovenia.
Hodgson said: "It was important that Arsenal took the matter in hand quickly, which they did.
"By the time I saw Jack it had virtually all been sorted out. The FA have charged him and he must accept that."
Wilshere made his senior England debut aged 18 in 2010 but has frequently had his international career interrupted by injury and Hodgson feels he is keen to make his mark at that level.
"Jack is a very enthusiastic and eager player," Hodgson added. "He plays with a confidence and an air of enthusiasm which is a real delight to see and that makes him a delight to work with.
"He has been unlucky with injuries and there have been constant moments where we have not had the chance to use him.
"So it is good that he has been back fit for the last couple of months and I think you will find he is raring to go."