Luis Enrique: Barcelona coach unsure about his future

By Phil McNulty
Chief football writer in Berlin
Last updated on .From the section European Football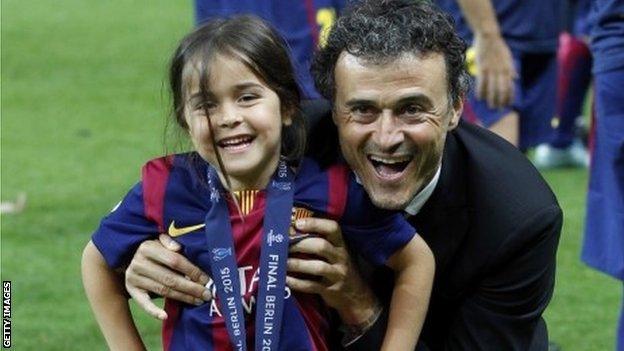 Barcelona coach Luis Enrique refused to be drawn on his future or confirm whether or not he would be in charge next season - despite completing a treble by winning the Champions League.
Enrique, in his first season as coach at the Nou Camp after succeeding Gerardo Martino, added the Champions League to La Liga and the Copa del Rey with a 3-1 win over Juventus in Berlin's Olympic Stadium.
Speculation has mounted, however, that he may still leave and the former Barcelona player and B team coach was pressed on his future amid the celebrations for the club's fifth triumph in the tournament.
Asked if he knew whether he would be in charge next season, the 45-year-old said: "No, the truth is I don't, but I'm happy at the moment. My challenge is to enjoy the moment and enjoy a good summer.
"The time will come when decisions have to be made. It has been a difficult year, a year of transition but I have to thank all the people who trusted me and thought I was the best person to lead Barcelona with my staff.
"I have zero interest in the people who criticised me. We have had six defeats and four draws in 60 matches, one of the best seasons we have ever had at Barcelona.
"Without a doubt the best club in Europe has been Barcelona over the last 10 years."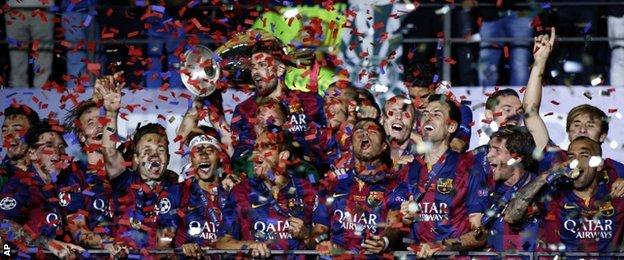 Do the players want Enrique to stay?
It appears so - judging by the comments of midfielder Andres Iniesta, who became the first player to assist a goal in three different Champions League finals.
"He's our coach and our leader and I hope he will continue with us next year - he has not said anything to the contrary," said the 31-year-old. "It has been a spectacular season in every sense of the word and this has been a spectacular day for all of us."
And what about Luis Suarez?

Well, the Uruguayan said his dreams had come true after helping Barcelona win the Champions League and complete a treble in his first season at the club.
Suarez joined from Liverpool last summer for £75m and missed the start of the season because of a ban for biting Italy's Giorgio Chiellini at the World Cup.
"It's incredible, a dream, something unique," said Suarez, who has been part of a forward line, alongside Lionel Messi and Neymar, that has scored 122 goals this season.
"To win these competitions you have to suffer, if not it's not worth it. Today we had to suffer to win the match."
A fitting end for Xavi, too?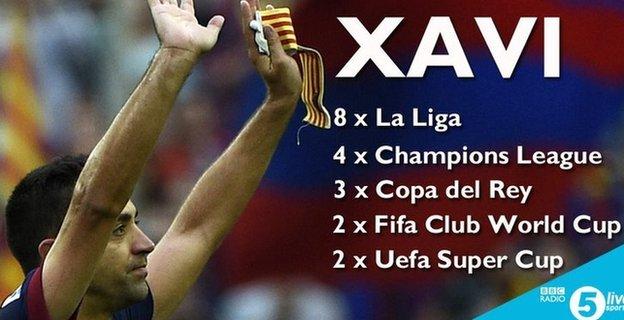 Certainly. The 35-year-old, who is leaving to play for Al Sadd in Qatar, became the all-time leading appearance maker in the Champions League when he came on as a 78th-minute substitute.
It was his 151st appearance in the competition, and took his overall Barcelona total to 767.
He lifted the trophy for Barcelona, was carried aloft on the shoulders of his team-mates and he also took home the matchball.
"Not even in the best possible dream could I be so happy," Xavi told Spanish television. "There are no words, I can't ask for any more, to leave this way is perfect.
"There is already a feeling of nostalgia. Knowing that you won't play for this team again is tough."
How did Juventus react to defeat?

In a very sporting manner. The club's official Twitter feed used the hashtag #ProudOfJu and manager Massimiliano Allegri admitted the better team had won.
"At the end of the game I thanked the team for the wonderful season they have had, and also because of the game they played tonight," he said.
"It was a great final. Unfortunately when you play against great players you think you have things under control and then one of them manages to get away from you.
"Barcelona did this just when we were controlling the match and looking as though we were about to score again. They were extraordinary and we were not able to contain them.
"We come out of this final with great self-esteem and confidence and more awareness that we can play in Europe with great technique and personality."
What now for the Old Lady?
Juventus have had a taste of the top table, and now they want to stay there.
"We can improve upon what we already have and try to stay among the top eight teams in Europe on a stable basis. That's the most important objective of the team," Allegri added.