Champions League Final: Barcelona carve a place in history

By Phil McNulty
Chief football writer
Last updated on .From the section Football377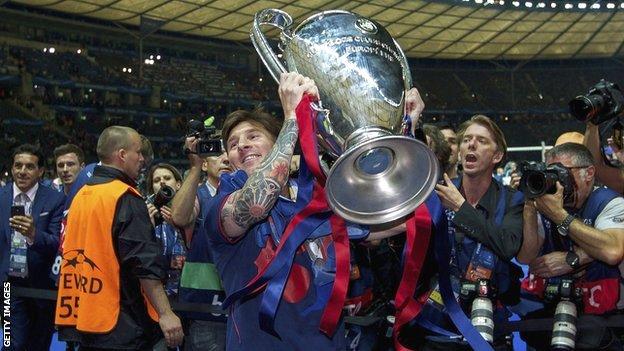 As Gerard Pique took a pair of scissors to the net at one end of Berlin's Olympic Stadium and Luis Suarez made a call on his mobile phone, Barcelona were celebrating a fresh chapter in their Champions League history.
Pique and his Colombian singing superstar partner Shakira will take home the net struck by Suarez and Neymar in the 3-1 win against Juventus as a keepsake - Barcelona have the greater prize of a third Champions League triumph in six years and fifth tournament victory.
For all Juventus's resilience and sheer grit, Barcelona were able to deliver coach Luis Enrique the Champions League to add to La Liga and the Copa del Rey in his first season.
Is this the greatest Barcelona team ever?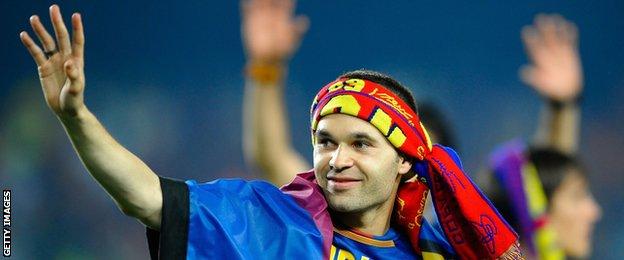 The finest success is always the most recent and Barcelona will be a city of joy on Sunday when the side returns to Catalonia with the Champions League trophy.
And the achievement of the team inspired by the superstar attacking trio of Lionel Messi, Suarez and Neymar can certainly stand comparison with others that brought glory to the Nou Camp in the past.
Messi has been the catalyst for the last three triumphs, scoring in the 2-0 win over Manchester United in Rome in 2009 and again in the 3-1 victory over the same opponents at Wembley two years later.
In 2009, the midfield "carousel" of Xavi and Andres Iniesta was in full swing while Messi was part of an attacking line-up that included Samuel Eto'o and Thierry Henry. At Wembley, David Villa and Pedro were his closest cohorts.
When Barcelona first won the trophy by beating Sampdoria 1-0 at Wembley under Johan Cruyff in 1992, the youthful Pep Guardiola, who would win the trophy twice as their coach, was guided by Ronald Koeman. Two legends, in Michael Laudrup and the Bulgarian Hristo Stoichkov, provided the attacking flair.
Eto'o and Brazil's Ronaldinho were the spearheads when Arsenal were beaten 2-1 in Paris in 2006 - but were any of these forward lines (almost too simple a term for what they offer) as good as Messi, Suarez and Neymar?
It is a debate that will be had in the tapas bars on La Rambla but one that will be conducted in an atmosphere of awe.
Barcelona's array of greats over the years means each team will have its merits but it is unlikely the club has ever gathered three world-class players who can strike fear into defences in quite the manner of the current trio. Not many clubs have.
Throw in permanent fixtures in the recent triumphs such as Iniesta, Pique, Dani Alves and Javier Mascherano who still remain, and this current vintage looks as complete as any that has ever represented Barcelona.
"Trident" too much for The Old Lady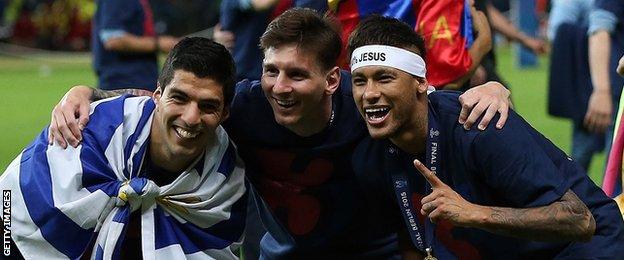 Messi, Suarez and Neymar have been labelled the "Trident" as they scored 122 goals between them this season.
Ivan Rakitic's opening goal involved nine outfield players but was the first Barcelona effort in open play not to have been a Messi, Suarez, Neymar goal or assist since 28 February.
And when Juventus briefly threatened to stun Berlin's Olympic Stadium after Alvaro Morata's equaliser, the heavy weaponry did the job for Barcelona.
Nominally Suarez plays through the centre with Messi right and Neymar left, but this is the most fluid attacking format in world football and ultimately, no matter how hard Juventus fought, the trio had too much.
Messi was actually slightly short of his very best (still outstanding, mind you) but it was his shot Gianluigi Buffon could not hold as Suarez pounced for the crucial second goal and Neymar rounded off the win with the third from the last kick of the game.
They produce a puzzle that no team can currently solve. How do you keep the "Trident" quiet for 90 minutes?
It looks impossible - and was the main reason, allied to a magnificent midfield, why Barcelona just had too much for Juve.
How good can Barcelona become?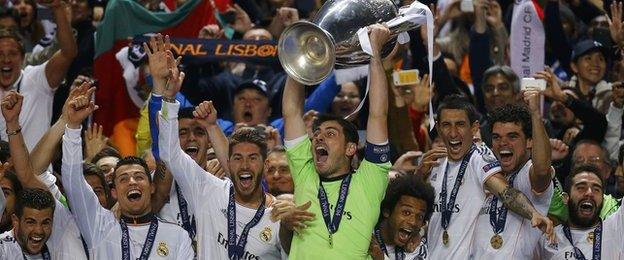 When the names of great European Cup or Champions League-winning sides are mentioned, Barcelona can take their place with ease after four triumphs since 2006.
Their great rivals Real Madrid completed "La Decima" with their 10th win against Atletico Madrid in 2014, while their legends of Ferenc Puskas and Alfredo Di Stefano decorated the European Cup by winning the first five tournaments after its inception.
The great Ajax side driven by Cruyff, who later became a Barcelona legend, won three in succession in 1971, 1972 and 1973 while the Bayern Munich of Franz Beckenbauer and Gerd Muller won the next three.
AC Milan can lay a claim with the trio of Dutch stars Ruud Gullit, Marco Van Basten and Frank Rijkaard (also a Champions League-winning coach with Barcelona in 2006) after their wins in 1989 and 1990, while the great Liverpool side of the late 70s and early 80s will have its supporters.
This is just one win for the current Barcelona but on the basis that no-one could stop Messi, Suarez and Neymar this season, it will be just as difficult next term because all are young enough to produce again and show not the slightest sign of physical decline.
The only cloud on the horizon was coach Enrique's reluctance to commit to being in charge next season when questioned after the final. He is a strong-willed individual but it is hard to see any situation that would be bad enough for the leader of this group to walk away.
Barcelona will surely start next season as favourites to become the first side to retain the Champions League - a mark of true greatness.
Redemption time for Suarez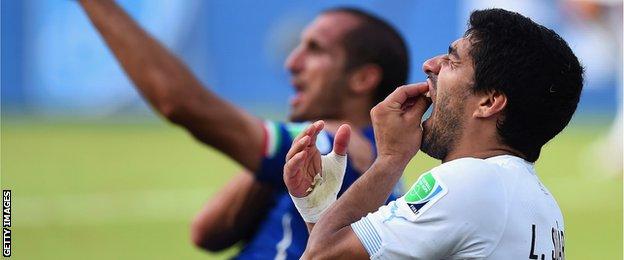 It was just short of a year ago that Luis Suarez added to his catalogue of misdemeanours by biting Italy defender Giorgio Chiellini when they faced Uruguay in the World Cup.
With some irony, Juventus defender Chiellini was ruled out of a Champions League Final reunion by a calf injury sustained in the build-up to Barcelona's victory, but Suarez was pretty much everywhere in Berlin's Olympic Stadium.
And while memories of Suarez's bite will never be forgotten, there was some measure of redemption here with the decisive second goal and a performance that confirmed he is world class.
Suarez was just off target and brought a fine save from Buffon in the first half and was close twice more before he finally scored after 68 minutes.
His goal not only confirmed what his £75m move in July 2014 has brought to Barcelona but also how it has vastly reduced Liverpool to such an extent that the argument grows that they were carried to the brink of the Premier League title 12 months ago on a wave of momentum almost solely created by one man. Namely Luis Suarez.
He left late on to a standing ovation from Barcelona's fans. He will never cast off the cloak of being the villain forever but here he was a hero and put a positive in the ledger that at least helps redress the balance from the negatives of his past.
Welcome home Rafa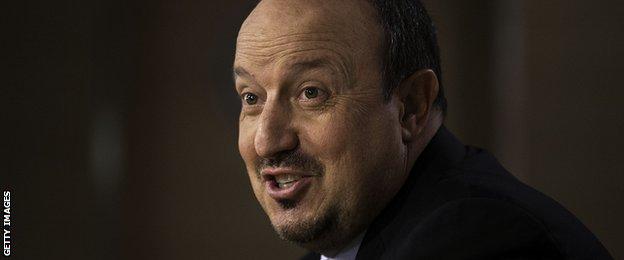 Real Madrid will be Barcelona's closest rivals in La Liga next season and under new coach Rafael Benitez will present a major danger in the Champions League too.
Benitez has returned to his beloved Real on a mission to restore them to the top of the domestic and European game - and he loves nothing more than a fight of such proportions.
He is the master European strategist, having won the Uefa Cup with Valencia, the Champions League with Liverpool and the Europa League with Chelsea. He also broke up the power base of Barcelona and Real with Valencia, but Benitez faces a huge task to unseat Enrique's treble winners.
The scale of his job was laid out in front of him and the watching world on Saturday night.
But if he can harness the skills of Cristiano Ronaldo, Gareth Bale, James Rodriguez, Luka Modric and company and bolt it on to his tactical acumen, who knows?
What next for Juventus?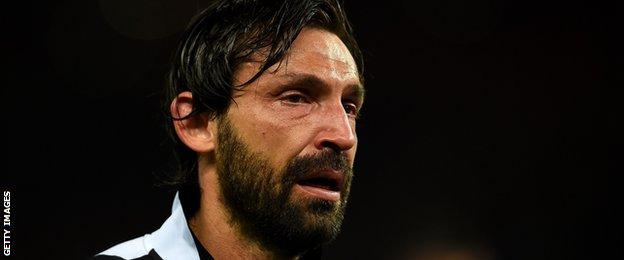 Juventus coach Massimiliano Allegri spoke warmly about the prospects for "La Vecchia Signora" next season amid the disappointment of defeat in Berlin - while accepting the only tangible improvement would actually be winning the Champions League after securing Serie A and the Italian Cup.
This will be a period of transition in Turin, however, with 36-year-old Andrea Pirlo coming to the close of a magnificent career and club legend Buffon a year older.
They may lose out at the other end of the age scale as well, with 22-year-old Paul Pogba almost certain to leave after links with Barcelona, Real and Manchester City.
And 28-year-old Chile midfielder Arturo Vidal could also be on his way.
Allegri has already moved to sign Palermo's prolific Argentine Paulo Dybala in a £23.4m move and as Juve have proved this season, one of the great names of world football is on the move once more.
The coach says the priority is to retain Serie A and establish themselves in the top eight in Europe. There may be some upheavals ahead but there is no doubt the foundations are in place for future successes - although another Champions League final may have to wait.