Roy Hodgson expects a battle between Scotland and Ireland
Last updated on .From the section Football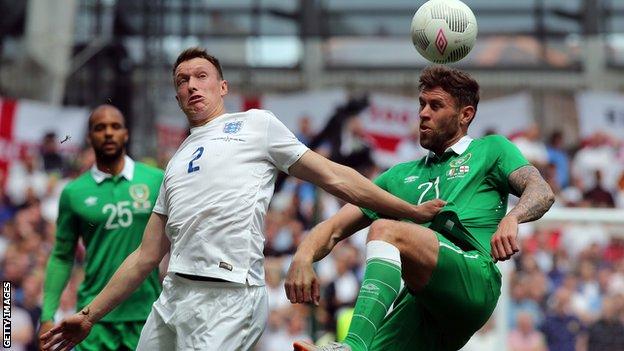 England manager Roy Hodgson has predicted a "ding-dong" battle when Scotland take on the Republic of Ireland in Dublin on Saturday.
England beat Scotland 3-1 in November just days after the Scots had edged out Martin O'Neill's side at Celtic Park.
"I think it's going to be very competitive, very exciting," said Hodgson, whose side lead Group E.
O'Neill and his players host Scotland looking for a win of their own to put them firmly back in contention to qualify for Euro 2016.
A home win would lift the Republic of Ireland above Gordon Strachan's team in Group D.
"The only prediction I could fairly safely make is that it'll be a very, very tight game, very fiercely contested," added Hodgson.
"I don't expect it to be a 5-4. I expect it more to be a 1-0 or a 2-1."
Irish manager O'Neill confirmed striker Robbie Keane will land in Ireland on Monday after being given permission to miss the England game so he could play in the Los Angeles Galaxy's 1-0 defeat to the Vancouver Whitecaps on Saturday night.
"He will join in with training on Tuesday," O'Neill said of the Ireland captain.
He added: "It was exactly what we needed. In the last 15 minutes we looked pretty tired, but we started off brightly and maybe could have scored a couple of goals. We certainly had a couple of decent chances.
"But overall it was good for us and from a physical viewpoint it couldn't have been better timed.
"Jon (Walters) was just feeling a little bit, but I think everybody's okay.
"John O'Shea's calf was tightening up on him, so I made a change there. It's something he's suffered a little bit from in the past and I'm hoping in next couple of games he comes through that."