Euro 2016: Wales' Gareth Bale 'needs to qualify to be a great'

By Jack Collison
Wales midfielder
Last updated on .From the section Welsh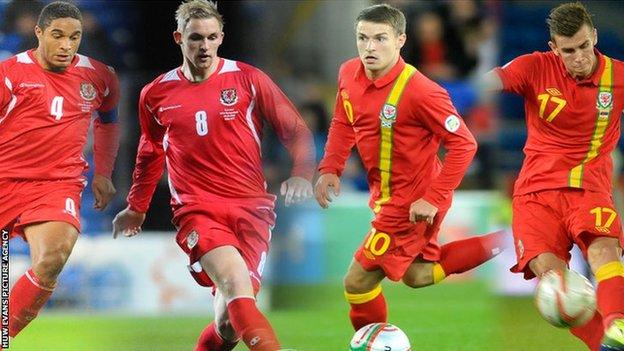 Euro 2016 qualifier: Wales v Belgium
Venue:
Cardiff City Stadium
Date:
Friday, 12 June
Kick-off:
19:45 BST
Coverage:
Live commentary on BBC Radio Wales, Radio Cymru and the BBC Sport website
Wales' Euro 2016 qualifying match with Belgium on Friday will be a bitter-sweet experience for Jack Collison. The 26-year-old former West Ham midfielder, now at Peterborough, is undertaking a degree in sports journalism as he recovers from a knee injury. As Wales continue their quest to qualify for a first major tournament since the 1958 World Cup, Collison considers the factors that leave team-mates like Gareth Bale and Aaron Ramsey on the verge of making history.
For the last few years, there has been a whisper about a golden generation of young Welsh footballers.
It's a tag that has often been chucked around loosely. But after a fantastic 3-0 win away in Israel, a tough-fought 0-0 draw in Belgium, and an unbeaten start to the qualifying campaign, this whisper has now turned into a dragon-like roar.
Thierry Henry believes, the players believe and finally the country believes. This young crop of Welsh players can finally end the 58-year wait and qualify for a major tournament.
In 1993 only Romania stood in Wales' way to qualify for USA 1994, but unfortunately a missed Paul Bodin penalty and a 2-1 loss meant the wait continued.
Again in 2003, after doing the hard work in Russia and earning a draw, a Welsh team with the likes of Ryan Giggs and Gary Speed fell at the last hurdle, losing 1-0 at home in the return leg of their Euro 2004 play-off.
Toshack's genius?
What followed was a lull and loss of belief in the football team. But could that seemingly unsuccessful period of Welsh football now be looked upon as a stroke of genius from then manager John Toshack?
Could this larger-than-life character have seen into the future? For all of his critics, Toshack blooded so many youngsters, he gave more debuts than most managers and often took the stick for the poor results.
Was it through lack of options, or belief in youth? It was Toshack who had enough faith to give a wiry 16-year-old lad called Gareth Bale his debut for Wales. It wasn't just Bale, it was Aaron Ramsey, Chris Gunter, Joe Allen, to name just a few and even me - at the tender age of just 19. The decision to have faith in his youngsters is a big part of why some of Chris Coleman's squad are nearing 50 caps when still in their early 20s.
It's fair to say Brian Flynn had a key role to play when he was manager of the under-21s. He not only provided Toshack with a pool of players brimming with talent, but he also passed on players that were full of belief.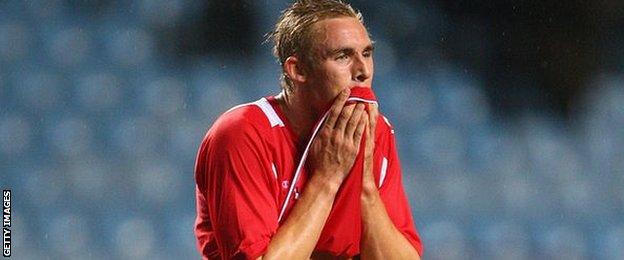 Flynn managed to build a team that topped its qualification group for the 2009 European Under-21 championship - a group that boasted the likes of France and Romania. As we embarked on qualification it was heart-breaking to fall at the last hurdle once again. That rain-soaked night at Villa Park, where we drew 2 - 2 with England, only to lose 5-4 on aggregate, will live long in the memories of Ramsey, Allen, Simon Church, Sam Vokes and myself especially.
Being so close to qualifying at under-21 level, would have driven the boys on to do the ultimate with the full international side. I remember Sam hitting the post with the game at 5-4 when we were well on top. It's those small margins which make all the difference and it's those small margins that Gary Speed spoke of often.
Speed's belief
I remember the shift of attitudes and belief when the late Gary Speed took over in 2010. At the time, the squad was stale, international trips were okay, but as soon as Speed took over the excitement was back. He created an environment where you wanted to be part of it. It was so professional, so meticulous and was exactly what the boys needed. He had every angle covered. From diet, to travel, to training, it was a real honour to be part of an exciting time in Welsh football.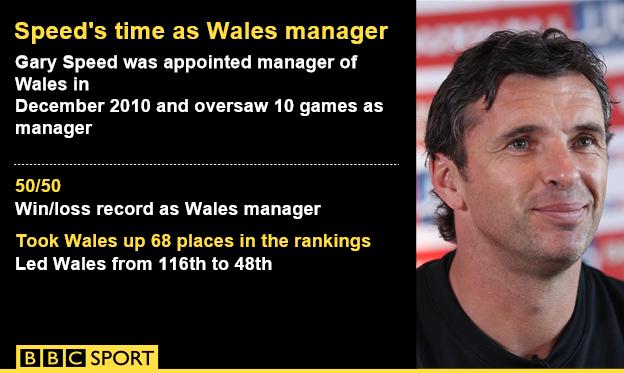 Most importantly Speed instilled belief. He had a dream, he made the players dream and the shift in mindset was frightening. The boys instantly bought into Gary's vision and what he wanted to achieve. The boys wanted to win, playing well wasn't enough anymore.
Losing Gary in such unfortunate circumstances had a massive effect on the team, on the whole football family and the country as a whole. I'm sure he's looking down over this current Welsh team, proud of what he achieved and cheering them on all the way to France.
Whoever took over was going to be in a tough situation. Not only massive boots to fill, but there certainly was a hangover. Luckily the Welsh FA chose the right man in Chris Coleman. It would always have to be a strong character and he has proved his worth. Chris has continued Gary's dream and made his own mark on this impressive Welsh team.
Coleman's influence
This is now Chris Coleman's Wales side, with its own identity and a team spirit, and will to win like one I have never seen before.
He wasn't afraid to make the big decisions. An example would be changing the captaincy from Aaron Ramsey to Ashley Williams. Some may have frowned upon this decision, but look how it has paid off.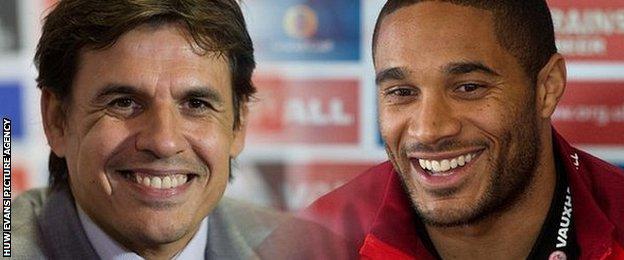 Ashley Williams is a born leader, a winner and someone who thrives of the added responsibility of the captain's armband.
The decision has allowed Aaron to go out onto the pitch with no added pressure. Ramsey just has to go out and play, and, my, how well has he been playing?
Brilliance of Ramsey and Bale
When you have not one superstar, but two in Ramsey and Bale, this is now a Welsh side which doesn't have to always play well to win. If the team can dig in, keep the game tight, there is always a chance that one of these two could do something outrageous and win a game with an individual piece of brilliance.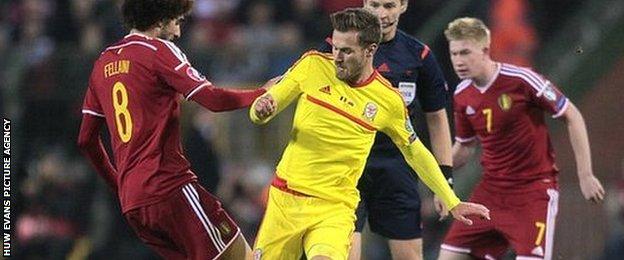 There is no surprise at what these two have achieved already in their short careers. Having played alongside Aaron in the Under-21s, I was never in any doubt he was a bit special.
In Gareth Bale we have a player that a whole nation rest their hopes upon. The great news for Wales is that he loves playing for his country and over the past 12 months has produced possibly some of the greatest ever performances by a Welsh player in that famous red shirt.
You can see what it means to him. He knows that to go down as one of the greats, he must do what Ryan Giggs never did, and qualify for a major tournament.
Gareth's love for the game is admirable, his attitude to training and ability to be at the heart of all practical jokes show that his move to Real Madrid has not changed him and gone to his head. He's proud of being Welsh and his team-mates are proud of him for putting Wales on the map.
Crunch time in Cardiff
After some fantastic results and a wonderful start, it's now coming to crunch time. A mouth-watering affair against fellow table toppers, Belgium in Cardiff awaits on Friday.
Although it isn't make-or-break, the game is set to be a real test of how far this Welsh side has come over recent months. This time next year, this exciting Welsh side could be lining up against some of the greatest teams in the world at the European Championships.
The time has finally come for this golden generation to qualify for a major tournament.
One thing is for sure: I will be working day and night to try and force my way back in. It has been a torturous 12 months on a personal level but I am now ready to get back to what I love doing the most, and that is playing football.
Collison's career

Played youth football for Peterborough and Cambridge United

Joined West Ham in 2007, and played 121 times

Finished last season on loan at Wigan
Played in Wigan's FA Cup semi-final loss to Arsenal in April, missing a penalty in the shootout

Made 16 appearances for Wales

Last competitive Wales game was 2-1 loss to Macedonia in September 2013
Jack Collison will be a guest on Radio Wales Sport from 19:00 BST on Wednesday, 10 June.