Sepp Blatter 'not involved' in Fifa corruption, says FAW chief Ford
Last updated on .From the section Football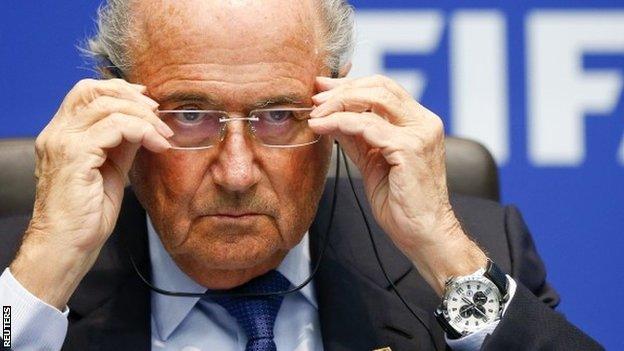 President Sepp Blatter has not been involved in corruption at Fifa, according to Football Association of Wales chief executive Jonathan Ford.
The US has charged 14 people over alleged corruption at Fifa.
Blatter will step down, despite being re-elected to a fifth term in May.
"I would probably draw a line between the corruption that has happened with the officials and Mr Blatter, because I honestly do not believe that Mr Blatter has been involved in that," Ford said.
"This is about the Fifa officials. Mr Blatter himself, who I know personally and have worked with for many years now... he's a fantastic operator, he is a very, very decent person himself.
"Don't get me wrong, there's a culture that has been embedded somewhere and there is responsibility for the man at the top to have an impact on that culture."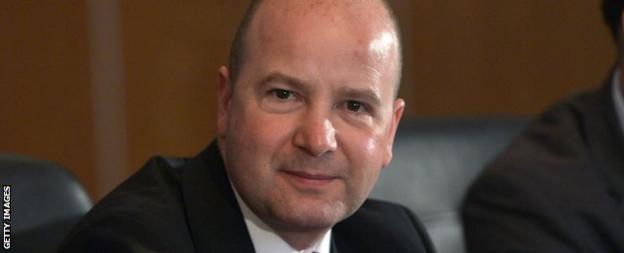 World football's governing body is under investigation over allegations of corruption during the bidding process to host the 2010 World Cup.
Former vice-president Jack Warner has been indicted by the US FBI for corruption, but denies all claims of wrongdoing.
Warner is under investigation for $10m (£6.5m) sent from Fifa on behalf of South Africa, to Concacaf accounts controlled by him.
Concacaf governs football in North and Central America and the Caribbean.
The money was meant to be used for Fifa's Caribbean diaspora legacy programme, but documents suggest this did not happen.