Aston Villa: Potential buyer of club granted exclusivity
Last updated on .From the section Aston Villa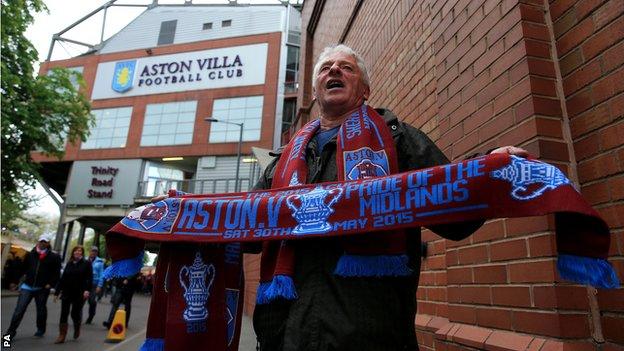 The sale of Aston Villa has moved closer with the granting of exclusive negotiations to an unnamed bidder, with early favourite Paul Smith understood to be no longer in the frame.
Exclusivity grants a bidder sole rights to deal with Villa's American owner Randy Lerner for up to six weeks.
However, former Chelsea executive Smith has not managed to land exclusivity, BBC Sport's Pat Murphy reports.
The identity of the new front-runner has been kept a close secret.
Both parties have signed non-disclosure agreements.
Villa finished 17th in the Premier League this season and were beaten 4-0 by Arsenal in the FA Cup final.
Exclusivity allows only the bidding party to submit a formal bid after due diligence. If Lerner is happy with the amount offered, then the bidder has up to six weeks to complete the deal.
It means the club could now be sold before the start of the new Premier League season.
Until that six-week period is over, no other interested party can get involved.
Smith, who offered around £150m, could come back into the running if the exclusivity period passes without a bid being accepted by Lerner.
The American was seeking a sale price of £200m when he put Villa up for sale a year ago.
Lerner bought Villa for £55m in September 2006 and his financial outlay on the club is estimated at around £300m.