Kenny Sansom: PFA to help with alcoholism & gambling addictions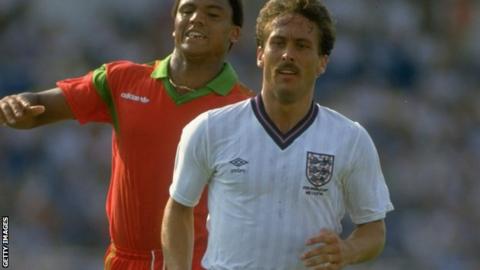 Kenny Sansom will be given all the support he needs to beat alcoholism and a gambling addiction, says the Professional Footballers' Association.
The former England defender revealed he had contemplated suicide after becoming homeless because of his problems.
Sansom, 56, won 86 international caps and played more than 300 games for Arsenal during the 1980s.
In 2013, he had been working at his first club Crystal Palace as a match-day ambassador.
In a BBC interview two years ago, he had said he could "see light at the end of the tunnel" from his addictions but in a new interview with the Sunday Mirror, Sansom said he would gamble his £622 monthly pension from the PFA before drinking himself to sleep in London parks.
Sansom, who featured in the 1982 and 1986 World Cups, made his professional debut at 16 for Palace in 1975, before going on to play for Arsenal, Newcastle, Queens Park Rangers and Coventry.
"It has been a bit of a vicious circle for Kenny, and the PFA as a union is there for him and always will be there for him," said PFA head of player welfare Michael Bennett.
"We have services in place, and are happy to help Kenny move forwards. We are on the case to get him the help he needs and will continue to do that."