Baerum's Simen Juklerod sent off for derogatory use of 'gay'
Last updated on .From the section European Football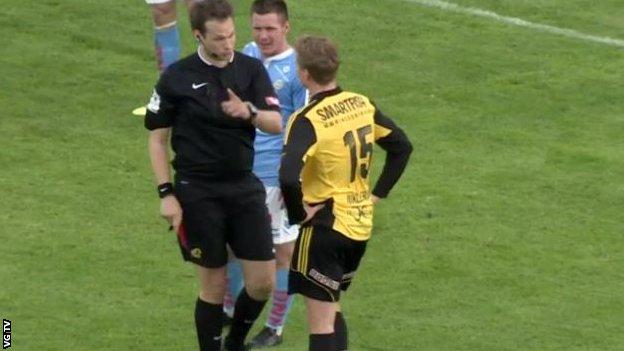 A Norwegian player was sent off for calling an opponent "gay" as referees in the country toughen their approach to homophobic language.
Baerum SK's Simen Juklerod was given a straight red for his abuse of a Sandnes Ulf player in the second-tier game.
Head of referees Terje Hauge said using the word "in an insulting or offensive manner" would lead to a sending-off.
Baerum were level at 2-2 when Juklerod was dismissed and his side went on to lose 3-2 in the 1 Division game.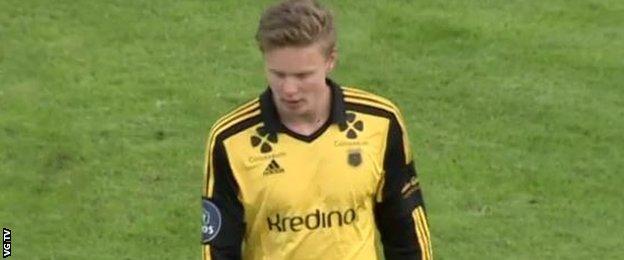 Juklerod look stunned when referee Anders Gjermshus brandished a red card as his side prepared to take a free-kick.
It is unclear who the abuse was aimed at as the home side were in the process of forming a defensive wall. Baerum's players quickly surrounded the official in protest.
"There was a second I was not thinking, and said the second word (gay), yes," said Juklerod. "Of course it's completely lame. But I still think that's not a red card."
The midfielder denied attaching any form of expletive to the word but his act will be investigated by Baerum.
"It is something that's been discussed several times after an incident a couple of years ago when a yellow card was given in a similar situation," said Hague, who has refereed at Champions League and World Cup level.

"We've told our referees that if they hear it clearly and there is no doubt about what's been said then it should be punished with a red card".