Torquay United: Consortium agrees deal to takeover club
By Brent Pilnick
BBC Sport
Last updated on .From the section Football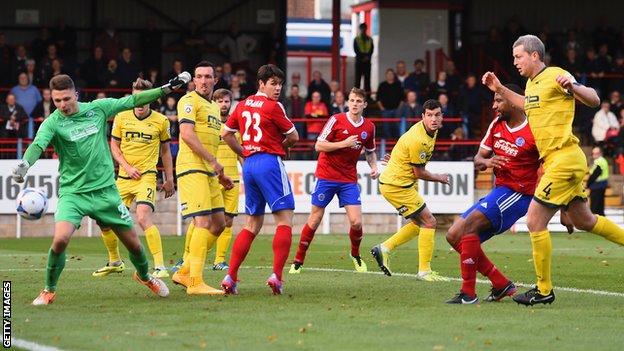 A group of 10 businessmen have agreed a deal to take over Torquay United.
The consortium, which is being led by former Gulls striker Dean Edwards, has already provided proof of finance to ensure they can fulfil next season's fixtures in the National League.
The group should take command of the club on Thursday, with a new board of directors being unveiled on Friday.
"Torquay fans can look forward to a club that will be galvanised and ready for action," Edwards told BBC Sport.
The legal aspects of the takeover are currently being dealt with as the Gulls prepare for their first major change of ownership in eight years.
Torquay takeover timeline
21 January:
Former Oxford United chairman Kelvin Thomas brought in to help sell Thea Bristow's stake in the club.
30 March:
Thea Bristow leaves her role as chairman early, having said she would stay on until the end of the season.
15 April:
Talks begin with a potential buyer.
27 April:
Torquay release nine players after finishing 13th in the Conference.
15 May:
Potential buyer pulls out of planned takeover.
26 May:
Torquay board consider three offers for the club after buying Thea Bristow's 80% stake for £1.
28 May:
Consortium of 10 local businessmen given seven-day exclusivity period to negotiate a deal to buy the club.
5 June:
Consortium lodge bond with National League to guarantee their entry for the season
9 June:
Consortium agree takeover
"We had a meeting with the consortium last night and they've all agreed to take the leap of faith," Edwards added.
"The situation is not perfect, but we feel that it is a risk worth taking."
The club had been up for sale since January after former owner Thea Bristow announced she wanted to sell.
The club was last taken over in May 2007 when lottery-winner Bristow's late husband Paul bought himself a place on the board.

She resigned from her role as chairman in March and sold her 80% stake in the club to the remaining directors last month for £1, and had pledged to help fund the club over the summer.
A new buyer had been found last month, but then pulled out of a deal to take over at Plainmoor.
The consortium has pledged a six-figure sum to help re-finance the club.
"Next week, the computers will be overloaded because there will be a lot of things going on," Edwards added.
"It will all be positive, it's been a tough time for the club over the past six weeks, but hopefully we can see some light at the end of the tunnel."