Euro 2016: Gordon Strachan 'doing as much as Sturgeon'
Last updated on .From the section Football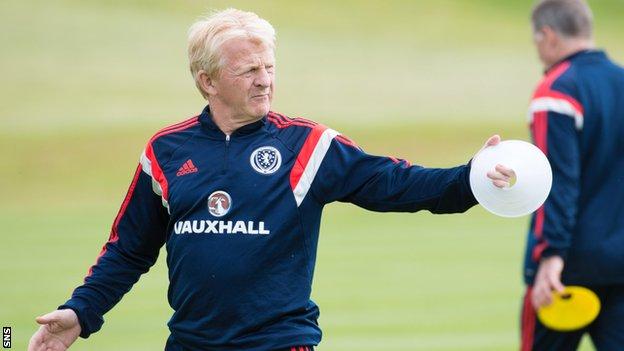 Stewart Regan says it is too early for contract talks with Gordon Strachan despite the manager "doing as much to rally Scotland as Nicola Sturgeon".
Scotland sit third in Euro 2016 qualifying Group D.
And Strachan's current deal takes him up until the end of that campaign.
"It's too early for talks," said Scottish FA chief executive Regan. "We're concentrating on qualification for now, but Gordon has done as much as Nicola Sturgeon to rally the nation."
Regan made his comparison with the First Minister at the SFA's annual meeting, held days before Scotland travel to Dublin for an important qualifier against Republic of Ireland.
"Gordon is relaxed about it," the chief executive said about Strachan's contract. "We'll have that conversation at an appropriate time.
"I'm sure Gordon is an attractive option for clubs, but he likes this job.
"He likes the fact he can dip in and out. It fits his lifestyle.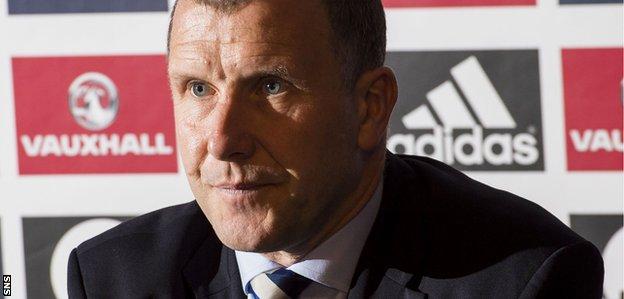 "We have a laugh and a joke about his popularity. But, if he keeps winning matches, he can work here until he gets his bus pass.
"He's really enjoying it and doing well. Mind on qualification just now. Let's hope we can do it."
Strachan's side travel to Dublin equal on points with Germany, behind Group D leaders Poland and with the Irish in fourth.
A win on Saturday would leave Scotland well placed to qualify for the finals of a major tournament for the first time in 18 years.
Regan says the build-up to the game has been the "biggest week" of his tenure as chief executive.
"This is a huge week for Scottish football," added the chief executive.
"We've never been this close to qualification for some time.
"The way Gordon Strachan has the team playing, it's full of optimism, hope.
"We have a great chance. It will be a very tight, intense game in Dublin but one going into hoping we can get a result."
Meanwhile, newly-elected president of the SFA Alan McRae believes reaching the Euro 2016 finals would be "a fitting tribute to the memory of the late David Taylor".
Taylor, a former SFA chief executive who went on to work for Uefa, passed away last year.
"[David Taylor] was such a prominent advocate for the expansion of the tournament," McRae told the SFA website. "It would be fantastic if Scotland could take their place in France next summer."