Arsenal: Alexis Sanchez 'disappointed' by lack of trophies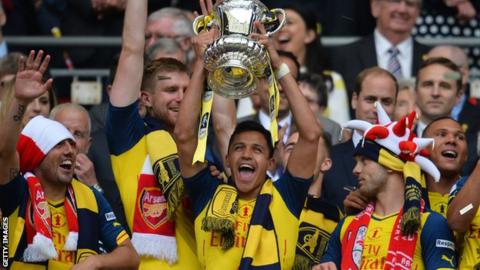 Arsenal forward Alexis Sanchez says the FA Cup winners' failure to win more trophies this season is "disappointing".
The £35m signing from Barcelona scored 25 goals and feels he grew as a player.
But the 26-year-old, who is on international duty with Chile at the Copa America, said Arsene Wenger's team could have achieved more.
"I would have liked to be in the Champions League final or to have won the Premier League title," he said.
"We have a bunch of skilful players so to not achieve more is disappointing."
The Gunners won a second consecutive FA Cup by beating Aston Villa 4-0 at Wembley on 30 May. They also qualified for the Champions League but finished 12 points behind Premier League champions Chelsea in third.
They were knocked out of the Champions League by Monaco at the last-16 stage, and lost their first game in the League Cup, at home to Southampton.
"It was an OK season, but it was bittersweet," said Sanchez.
But on his own game he added: "I had a breakthrough in my football life. Now I switch to the left, I make goals, I pass, I am evolving.
"And if I am put in at centre forward, I will do it in the best way possible."