Kieran Mahon: Guernsey player keeps place despite conviction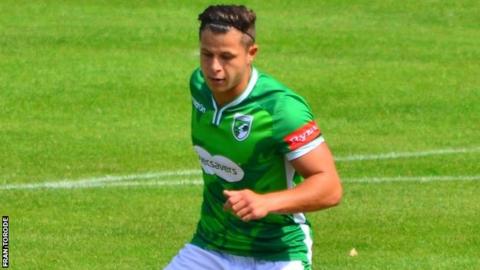 Guernsey manager Steve Sharman has defended his decision to keep Kieran Mahon in his Island Games squad, despite the player admitting assault.
Mahon, 24, pleaded guilty on Monday to committing an assault in February.
The midfielder, who plays for Guernsey FC, will be sentenced by Guernsey's Magistrate's Court next month.
"Football can be a real help for him, it's an environment where he feels most comfortable and he has a secure network around him," Sharman said.
"He recognises what he's done is wrong, as he's pleaded guilty, and the decision will be made by the courts, but its not for us to just abandon someone.
"Football's done it before with young people as a way of helping them rehabilitate, and I think that's where we sit.
"We're not advocating in any way what he's done, but what we're saying is he needs a support network around him and we're that support network."
Guernsey face Ynys Mon, Gotland and Gibraltar in their group at the Island Games, which begin in Jersey on 27 June.