Cardiff to remove Sam Hammam representative Filiou from board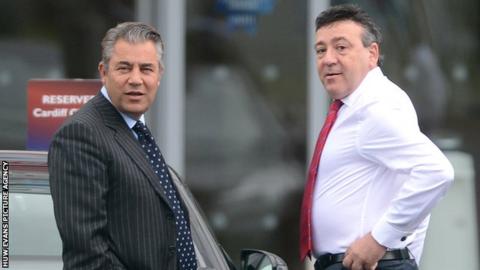 Cardiff City are set to remove Sam Hammam's representative from the club's board of directors.
BBC Wales Sport has learned that Michael Filliou is set to be voted off the board at a future EGM.
Filliou joined the board in 2013 after Cardiff and creditors Langston announced an "amicable resolution" to their long standing debt issue.
In February, Hammam confirmed owner Vincent Tan and Cardiff were being sued over nearly £6m owed to Langston.
Club chairman Mehmet Dalman wants to know the identity of the corporation before paying £5.75m plus interest, which was initially due on 30 January 2015.
The original debt of £24m was in the form of loan notes issued by The Langston Corporation when Hammam was at the helm of the club.
As part of the deal, Hammam became life president and his representative Filiou took a seat on the board.
The intention to remove Filiou is seen as another move in the continuing battle between Hammam and Tan.
Hammam has been widely seen as Langston's representative.
Twenty eight days notice is required to call an EGM and Cardiff are set to begin that process on Wednesday.