Leyton Orient: Francesco Becchetti to contest Albanian charges
Last updated on .From the section Leyton Orient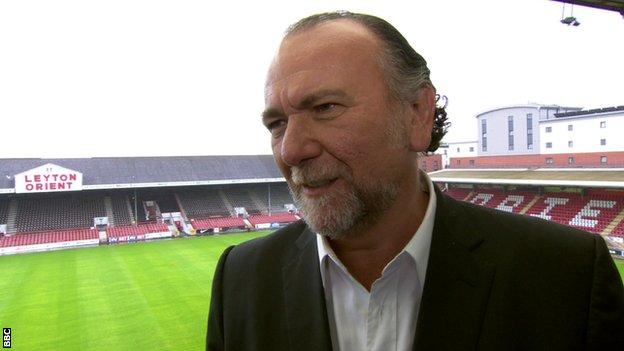 Leyton Orient president Francesco Becchetti will contest the "baseless accusations" against his business interests in Albania.
A court in the Balkan country issued an arrest warrant for the 48-year-old earlier this week on charges including fraud and money laundering.
Becchetti has had assets in Albania seized, including shares in Agon Channel, his television station.
The Italian said the court orders were "groundless and politically motivated."
Becchetti bought Orient last summer from Barry Hearn, although Hearn still owns the club's Matchroom Stadium.
The O's had four different managers last season and were relegated to League Two, dropping into the bottom tier of the Football League for the first time since 2006.
The charges against Becchetti in Albania relate to a failed hydroelectric scheme, which allegedly cost the Albanian government tens of millions of euros in grants and unpaid taxes.
Arrest warrants have also been issued for his 73-year-old mother Liliana Condomitti, who has shares in Orient's parent company, Leyton Orient Holdings Limited, and two other associates.
The charges against the quartet carry a maximum prison sentence of 15 years.
"Mr Becchetti is currently involved in complex commercial litigation against the Republic of Albania, in which large sums of money are at stake," a statement on the Orient website said.
"It is believed that these allegations have been made in order to harass him and to put pressure on him to settle the litigation on terms that are advantageous to the Republic of Albania."
Becchetti, who has a background in energy companies and waste disposal, launched the Agon Channel in 2013.