Tottenham a 'disappointment since I left', says Harry Redknapp
Last updated on .From the section Tottenham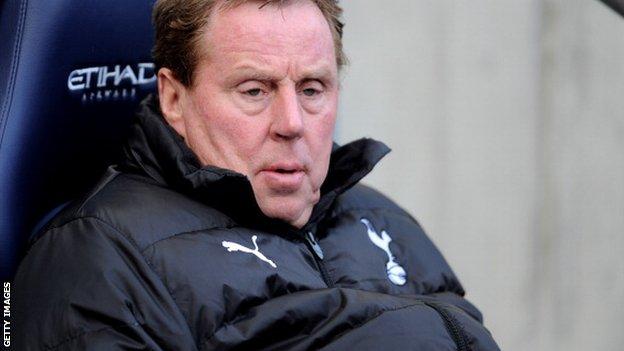 Tottenham have been a "major disappointment" for the last three years and are an "unexciting" team to watch, according to Harry Redknapp.
The 68-year-old, sacked by Spurs in June 2012, also said the club's recent signings had been a "disaster".
Tottenham have finished fifth, sixth and fifth in the Premier League since Redknapp left three years ago.
"We finished fourth twice and should have finished higher in all honesty," Redknapp said.
"Tottenham have been a major disappointment since I left," added Redknapp, who led Spurs to a first ever Champions League campaign in 2010.
Following Redknapp's dismissal, Tottenham appointed Andre Villas-Boas in July 2012 but the Portuguese was sacked in December 2013.
Tim Sherwood lasted five months before he was also dismissed in May 2014 after the club finished sixth in the table. Mauricio Pochettino then became the club's 10th manager since 2001, the Argentine steering Spurs to fifth in his first season.
"I'm a big fan of the [current] manager, I like him very much, but if you look at the team this year it certainly doesn't excite you," Redknapp added on his Kicca blog.
Discussing Tottenham dealings in the transfer market, Redknapp said: "All that £120m or whatever they spent from Gareth Bale and Luka Modric has been pretty much wasted really.
"The signings, almost to a man, have been a disaster."