PFA chief Gordon Taylor wants players to help run football
Last updated on .From the section Football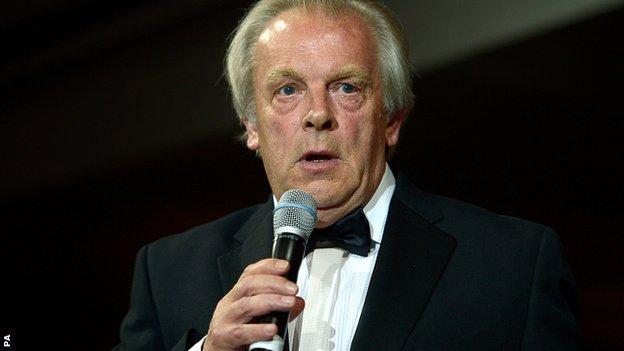 It is time for players to take a greater role in running the game, says Gordon Taylor, chief executive of the Professional Footballers' Association.
Speaking at a world players' union congress in Bulgaria, Taylor addressed the current off-field controversies.
"The game is tainted by corruption at the highest level," he said.
"We cannot leave a vacuum in Fifa to be filled with the same toxic problems as before. If we do not intervene now we will forever regret it."
Fifa has handed over computer data to Swiss authorities investigating how the 2018 and 2022 World Cups - scheduled to take place in Russia and Qatar - were allocated.
In addition, United States investigators have indicted 14 Fifa officials and associates on bribery and racketeering charges.
Taylor, who was a professional for 18 years before retiring in 1980, says the best way of cleaning up the game is to get players' voices heard.
"The time is here to clean out the corruption and to place ourselves at the top table as guardians of the game," he said.
"A game for players about players has not been run by players and we are now seeing the results."
Former Brazil forward Zico has confirmed his intention to run for Fifa president when Sepp Blatter stands down, probably in December.
Uefa president Michel Platini, who captained France to victory in Euro 84, is also thought likely to be a contender.
Taylor feels major reform is needed, which could even include moving Fifa out of Switzerland.
"It feels that even the location of its headquarters in a country where anonymity and secrecy prevail sets the wrong tone."