Fulham: Ryan Tunnicliffe banned by FA for Patrick Bamford tweet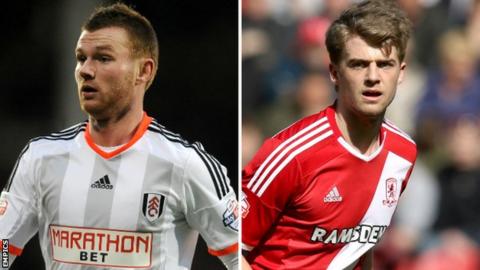 Fulham midfielder Ryan Tunnicliffe has been banned for two games for a derogatory comment on Twitter about Chelsea striker Patrick Bamford's sexuality.
The 22-year-old admitted a Football Association charge of aggravated misconduct by reference to sexual orientation.
The former Manchester United youth team player will miss the first two games of next season and was fined £5,000.
He must attend an education course.
Tunnicliffe's comments were made after Middlesbrough lost to Norwich in the Championship play-off final in May. Bamford was on loan at Riverside Stadium last season.
The Tweet was subsequently deleted.
Bamford, 21, scored 17 goals last season and was named Championship Player of the Year for 2014-15.
Tunnicliffe, meanwhile, moved from Old Trafford to Fulham in January 2014.
Rio Ferdinand was fined £25,000 and suspended for three games in October for comments he made on Twitter.
His misconduct charge was believed to have been related to his use of the word "sket" - meaning 'a promiscuous girl or woman'.