Torquay United: Consortium competes takeover of club
By Brent Pilnick
BBC Sport
Last updated on .From the section Football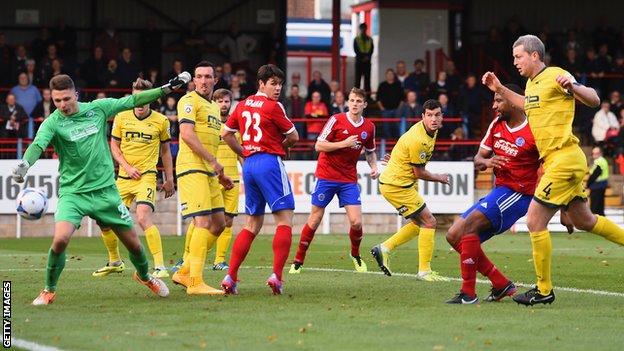 A consortium of 10 local businessmen has completed its takeover of National League side Torquay United.
The consortium has pledged a six-figure sum to help finance the club.
"We're all pleased. It's a great day in our history and we're looking forward to the task ahead," said Edwards.
"If anybody says it's an easy road they need committing.
"We know it's not going to be an easy road, but we didn't expect it to be. But the harder the road is, the harder we will work."
Torquay takeover timeline
21 January:
Former Oxford United chairman Kelvin Thomas brought in to help sell Thea Bristow's stake in the club.
30 March:
Thea Bristow leaves her role as chairman early, having said she would stay on until the end of the season.
15 April:
Talks begin with a potential buyer.
27 April:
Torquay release nine players after finishing 13th in the Conference.
15 May:
Potential buyer pulls out of planned takeover.
26 May:
Torquay board consider three offers for the club after buying Thea Bristow's 80% stake for £1.
28 May:
Consortium of 10 local businessmen given seven-day exclusivity period to negotiate a deal to buy the club.
5 June:
Consortium lodges bond with National League to guarantee their entry for the season
9 June:
Consortium agrees takeover
12 June:
Takeover is completed and new board takes control
The club has been up for sale since January, when previous majority shareholder and chairman Thea Bristow appointed former Oxford United chairman Kelvin Thomas to help her find a buyer.
She resigned from her role as chairman in March and sold her 80% stake in the club to the remaining directors last month for £1, and had pledged to help fund the club over the summer.
A new buyer had been found last month, but then pulled out of a deal to take over at Plainmoor.